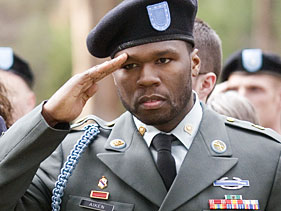 Nas and Jay-Z may have given him the cold shoulder but there is one popular New York rapper who wants a DJ Premier beat on his album…50 Cent.
Primo revealed in December that a beat he had submitted for the G-Unit honcho to use on his upcoming album Before I Self Destruct, had been turned down.
But rap fans including Primo himself would be met with surprise when 50 used the beat and leaked it as a freestyle titled "Shut Your Blood Clot Mouth" via his website earlier this month.
Apparently the positive reception that the track received has 50 interested in officially using the beat. Premier revealed on his Sirius Radio show Saturday (January 17), that he is currently in talks with 50's camp to put finishing touches on the track and add it to Before I Self Destruct.
Read the full story here
In related news, Before I Self Destruct has been pushed back to a march date but the exact date is still not confirmed.