Above is the official album cover for Saigon and Statik Selektah's new album All In A Day's Work dropping March 17th exclusively on Amalgam Digital's website.
This album, 'All In A Day's Work' is a bonafide Hip Hop classic created from beginning to end in 24 hours. It is a definitely a spark in the right direction for the resurgence of east coast Hip Hop. I teamed up with producer Statik Selektah and Amalgam Digital, and we came together to present the world with the best album of the year 2009, aside from my debut of course, The Greatest Story Never Told, which will soon follow.
– Saigon
*Post updated with a new cover sent by Matt of MAC Media.
Track List, previous cover and download links for the 2 singles after the jump.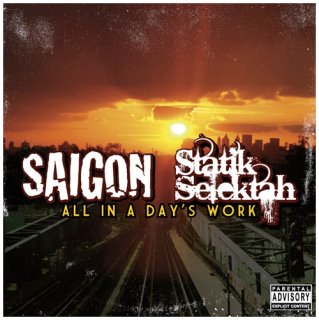 Track List
01. To Be Told…
02. So Cruel
03. The Rules
04. My Crew
05. Prepare For War
06. Spit
07. Lady Sings The Blues
08. Lose Her
09. Goodbye
10. The Reason
11. BONUS: I Warned You
Download here –