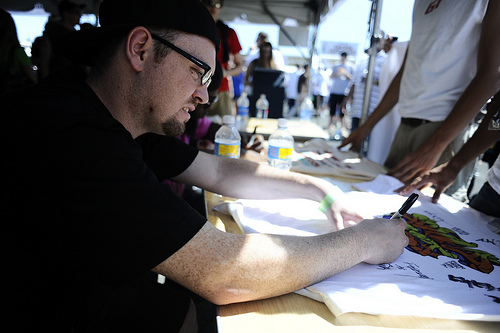 It's been 2 and a half years since I first interviewed producer Jake One who now needs no introduction. Since then, the Seattle beatsmith has gone on to produce some standout songs for Snoop Dogg, Wiz Khalifa, 50 Cent, Freeway and T.I. just to name a few. This past weekend, I had the wonderful opportunity to re-connect with him where he talked about producing the entire new Brother Ali album, his trademark sound, possible upcoming releases with Drake, 50 Cent & Kendrick Lamar, status of his own  pending album White Van Music II, who he would like to produce for in the future, lost Eminem collaboration and much more. We hope you enjoy reading it.
HHNM: Thanks for taking out your valuable time for us. Last time we spoke, it was January 2010 and 'Stimulus Package' was just about to release. How have you been and how do you describe the time since then?
Jake One: I've been pretty good man. I had my first kid in May 2011. I'm happy.
HHNM: What are you working on right now?
Jake One: All kind of different things. I finished Brother Ali's album Mourning In America, Dreaming In Color, it's finally done. That comes out August 21st. I produced the whole thing. It was probably done over a year ago but we kept going back and changing things. It's finally come to a place where we both wanted it. We worked a lot on it. I got a couple of really big things coming up very soon but I don't wanna speak on it and jinx it (laughs).
HHNM. Ha. Okay, fair enough. So How was it working with Brother Ali again and how do you describe the sound of this new album?
Jake One: He's probably the most intense artist I've worked with because he's very demanding. It is also good because we're genuinely friends and I'm not afraid to say anything to him. We're very honest about whatever we're doing. The best thing about working with him is that he really believes in what he's saying and rapping about. He's very serious about the message he wants to get across to the listeners.
HHNM: That 'Stop The Press' joint is crazy. I love that one.
Jake One: Thanks man. The album is definitely on that level. It's gonna be a great one.
HHNM: You continue to work with 50 Cent and each time, the result is great. Both 'Body On It' and 'Lay Down' are dope. He has a new album coming out on Interscope called 'Street King Immortal'. Can we expect to hear another one on there?
Jake One: He's definitely recorded something but I'm really not sure if it will make the album because they haven't told me anything. There's a record that I did for him and they paid me for it so they're definitely serious about it. That one is really dope. I think it's called 'Hustler' or something like that. He's putting out free music right now and watching the response which a lot of artists are doing right now.
HHNM: The problem with 50 is that he's put out pretty consistent material in the past few years but somehow listeners are finding it cool to hate on him for whatever reason. They will say negative things about his music on social media even if they necessarily don't feel that way. What do you think?
Jake One: It's just the inevitable backlash. He was just so popular that people were just waiting for a reason to not like him, you know what I mean. They just made a villain out of him. If you've been rocking with him from the start, his music really hasn't changed that much. I don't know if that's a good thing or bad thing. He's great at doing what he does but the climate has changed so much. It's just natural, it happens with almost everybody. He's still 50, he's still entertaining and that's the bottom line. Gangsta Rap was running shit for decades but the times have changed now. I can never have any complaints about him. He really put me in a good place from the beginning. I was just doing my thing locally until I caught that wave. It was really dope.
Continued on page 2..