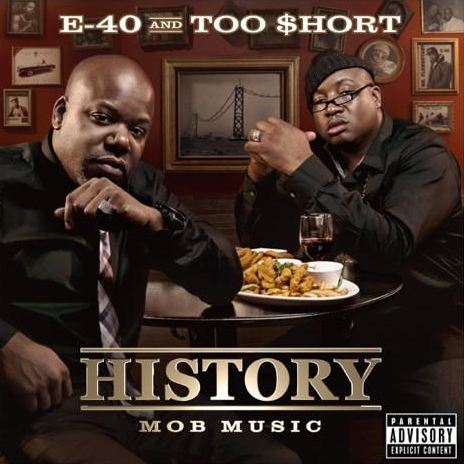 As we informed you about a week ago, Bay Area legends E-40 and Too $hort have finally set a release date for their joint albums History: Mob Music and History: Function Music — November 6th. Here are the covers for both LPs which drop together on the same day and not as a double disc album.
--advertisement--
Function Music will represent the new era while Mob Music which will have an old school feel.
UPDATE: We have the official track list for you. Both discs feature 17 tracks each with features like Tyga, Ice Cube, Kurupt, Wiz Khalifa, B-Legit, Sugafree and more. Pre-order on Amazon here & here.
Mob Music:
1. We Are Pioneers
2. Sheesh
3. Fire Fighter (Feat. Knotch)
4. Whip Out
5. Money Motivated
6. Ballin' Is Fun (Feat. B-Legit)
7. Ride With Me
8. Do You Remember? (Feat. Kurupt)
9. Street Money
10. My Stapler
11. I Don't Work For Nobody
12. Ask About Me (Feat. B-Legit)
13. If We Ain't Fuckin'
14. Gang of 'Em (Feat. Beeda Weeda & Rankin Scroo)
15. Knockin' A Bitch
16. Pancherellos
17. Stressin'
Function Music:
1. This Shit Pound
2. Slide Through (Feat. Tyga)
3. Smoke That Shit
4. Let's Have A Party (Feat. Cousin Fik & Knotch)
5. Dump Truck (Feat. Travis Porter & Young Chu)
6. Singles
7. Entrepreneur
8. Bout My Money (Feat. Turf Talk)
9. Say I (Feat. Wiz Khalifa)
10. Workin' the Trunk
11. West Coast Shit (Feat. Ice Cube)
12. One Foot (Feat. Sugafree)
13. Check That Bitch
14. Everyday
15. Lemme See You Twerk (Feat. Dolla Will & Decadez)
16. Toasted
17. Cali (Feat. Wifey & DJ Upgrade)