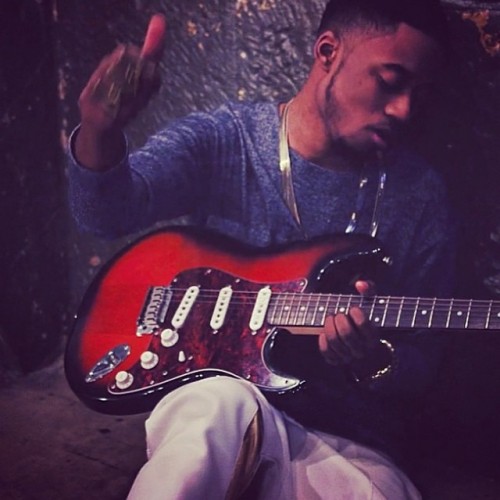 If you've heard latest projects from Chinx and Fabolous, you have definitely heard about Velous. The singer-rapper-producer, songwriter and multi-instrumentalist from upstate Kingston, NY has been steadily making a name for himself in the industry with his talent. He recently earned placements on Fabolous' album The Young OG Project and Chinx's Cocaine Riot 5 mixtape.
Velous is also known in the circles for reportedly producing Kanye West's long awaited single 'All Day' from his upcoming 7th studio album. In an exclusive chat with us, he confirmed the production credit for the first time while also revealing that the song now sounds different from the leaked snippet which came out a few months ago. He also clears up confusion about him producing a song for J. Cole and talks about signing with French Montana's Coke Boys imprint, working with Fabolous and more.
What up Velous. Thanks for taking out the time to chat with us. For those who haven't heard your name, please introduce yourself.
No doubt man. I'm Velous and I'm a singer, producer, songwriter and a rapper occasionally. I'm signed to Swanky Music Group and Coke Boys Records.
First off, congrats on your placement on the Fabolous album The Young OG Project. Is that you singing on 'Gone For The Winter'?
Yup, that's me on the hook of 'Gone For The Winter', the verse and the breakdown too.
Nice. How did you end up working with Fab?
I was in the studio working with Vinylz. He's produced some major hits and had the city going crazy. Me and him started working a year prior to that. So yeah, I was at Bad Boy working with Vinylz and Fab was in a studio down the street and we just decided to go there to check on him. I ended up playing some of my stuff and he was vibing to it. Then he started coming out to see us in the studio in Jersey and just locking in with us, working with us. One day he just hit me up inviting me to come work and that's where we kicked off our vibe.
So you produce, write and sing. And we also heard you rapping a bit on the 'I Don't Want Her' remix. What do you like doing the most out of all that?
Oh yeah, I rap occasionally. It's difficult to say a favorite, I just like making hot songs. It's all about the moment, I just like everything to be honest with you.
How did you end up signing with French Montana and his Coke Boys?
Gaby is French's manager and he's my manager too. He hit up people at Swanky Music Group and was interested in managing me. I had met him through a friend of mine who is like a professional middleman. So we had a sit down followed by a meeting at a Cheesecake factory. He played some stuff for French and French invited me one day to his crib. I played him mad joints. We had some Chinese food and the vibe was right. Everything happened from there.
And this happened last year?
This happened earlier this year.
One thing we definitely have to ask you is Kanye's 'All Day' single. It was supposed to come out a few months ago but never did. Any idea when we will get to hear it?
(Laughs) You know what, a snippet of that leaked a while ago. But it sounds different from that now, I can tell you that. I can't say too much. You gotta ask Kanye when it will come out.
As far as we know, you produced the song. Is that correct? Can you elaborate a bit on your contribution on the song?
Yes, I produced 'All Day'. It was executive produced by big bro French.
Oh nice. Kanye usually works with a few producers and then comes with a final and finished product. Is that what happened on 'All Day' as well or is it just you?
You know Kanye is a creative genius. He has a reputation for hearing things and taking them to the next level. That's what he did here too.
How does the record sound like? Tell us something.
Ah man. Legend. Hash tag legend.
C'mon, you can tell us something.
(Laughs) Man, I'm just the producer and writer in this case. If it was my record, I would tell you. But since it's Kanye's, it would be best if he's the one speaking on it. You gotta respect it.
Okay, fair enough. But does it sound like Yeezus-Kanye or Late Registration-Kanye?
It sounds like Kanye Omari West.
Gotcha. We also heard that you produced a song for J. Cole which didn't make to his album. What is that song like and why didn't it make the cut?
Nah, you know what. (Laughs) That's a long story. I didn't exactly produce a song for him. There was a song which got changed up. There is a song on his album that was my joint but it ended up being his and a lot of the stuff that I did on it is no longer there and I have nothing to do with it anymore.
So did you sell it off to him?
Oh nah, I didn't sell it. Things get passed around sometimes.
So it is still lying with Cole?
Oh, it's his song and he's already used it. I don't wanna say which one it was. And for that song, I have a whole another version of it which will be on my upcoming release.
So that song is already out?
Oh yeah, it's already released. One of my boys is the producer of the song, the way it is now in totality. He crushed everything on it. Matter of fact, I can say that my boy Vinylz did it. It was something we did together. As much as I'd like to press play and listen to me on it, we gotta respect that Cole is one of the best lyricists of our generation and my time is coming.
So you can't name the track? You're not allowed to?
(Laughs). Hey man, it's one of the two tracks on there. My boy Vinylz did it. And listening to it, I think it's great how it came out. I did one portion on it which is not there on the beat anymore. But Vinylz killed it, the bounce is crazy.
Who are some of your influences?
I listened to a lot of stuff while growing up. The whole Star Trak movement, Earth Wind & Fire, Kanye, Usher, Nas, Jay Z, Michael, James Taylor, The Isley Brothers, Prince.
What can we expect from you in the near future? Any more collaborations, solo projects?
I've been working on a lot of different things but one thing I'm most excited about is my solo project. It's coming sooner than people know. It's called The Disco. We got the records. I got this song featuring French coming soon which is crazy. I got 3 records on the new Chinx mixtape that just came out. I love working with him. The thing with him is, he doesn't write, he just flows and freestyles. Him and Jadakiss killed the 'Dope House' joint. That one is getting a good reaction. That Fab record is getting a good response too. Flex made a movie of it the other day.
Must be crazy to hear yourself on the radio.
Oh yeah. Well, it's not the first time I heard myself on the radio because I had this 'Adult Swim' record with Spinking, Jeremih and Tyga that I also co-produced. But the thing about the Fab record is that he's actually one of my biggest influences. Especially with my rapping. If I had to say who I sound a combination of, I would say Kanye and Fab. He's definitely a master of wordplay. I mean, who's more consistent than Fab? It's huge to be on a record with my favorite and get a huge response.