UPDATE 6: TMZ has obtained a shocking video from backstage where you can hear at least 5 gun shots ring as people try to escape through the tiny exit. There's another video of T.I.'s reaction immediately after the incident as well.
UPDATE 5: PIX11 News caught 50 Cent outside Bellevue hospital who said that he was there to see his friend's girlfriend who was one of the people that got shot during the incident.
.@PIX11News "I'm here to support my friend, his girl was shot. What's happened here is not good," he said.

— 𝐌𝐲𝐥𝐞𝐬 𝐍. 𝐌𝐢𝐥𝐥𝐞𝐫 (@MylesMill) May 26, 2016
UPDATE 4: Here's some proper footage of the incident where you can see T.I. backstage in a tense mood and also hear actual gun shots being fired.
NYPD Commissioner William Bratton blamed the "crazy world of so-called rap artists" for the incident during live interview on WCBS 880 which you can listen below.
"The crazy world of these so-called rap artists who are basically thugs that basically celebrate violence they did all their lives, and unfortunately that violence often times manifests itself during their performances, and that's exactly what happened last evening. We should be able to wrap it up quickly."
UPDATE 3: Karen Civil has confirmed with Troy Ave's camp that the rapper was shot during the event.
UPDATE 2: The latest report from ABC says a total of 4 people have been shot. One of them has died according to Fader (as told by NYPD).
UPDATE: One man is in critical condition and was taken to Beth Israel. There is another man who is listed in serious condition at Bellevue Hospital. A woman was also shot and she is said to be in serious but stable condition.
Previous story:
You have to think twice about your security before attending Hip-Hop concerts.
T.I. had a special show in New York City tonight (Wednesday) in promotion of his new single 'Dope' and the upcoming album The Dime Trap.
According to News agencies, at least 3 people were shot at the venue when unknown person(s) fired gun shots during the show. T.I. had not started performing yet, he was about to take the stage. The condition of the injured is still unknown and there's a heavy Police deployment outside the venue right now.
Here are some videos of the panic situation when shots were fired inside the venue:
NEW YORK: VIDEO: Frightening moment crowd panics as shots were fired at Irving plaza during concert. @markygeezy pic.twitter.com/UPVUmm2x22

— KolHaolam (@KolHaolam) May 26, 2016
Evacuated after shots fired while crowd waited for @Tip tonight at @IrvingPlaza pic.twitter.com/2hDT9qgO9t

— Diana Zuluaga (@dmz75) May 26, 2016
Scene outside the venue:
Outside Irving Plaza, EMS pulled out one victim on a stretcher @PIX11News pic.twitter.com/8jGv6sDKBp

— 𝐌𝐲𝐥𝐞𝐬 𝐍. 𝐌𝐢𝐥𝐥𝐞𝐫 (@MylesMill) May 26, 2016
Shots fired at the TI show pic.twitter.com/0GhQXbDNTM

— hardaway (@HardawayAllDay) May 26, 2016
Here's what a concert goer tweeted about the incident: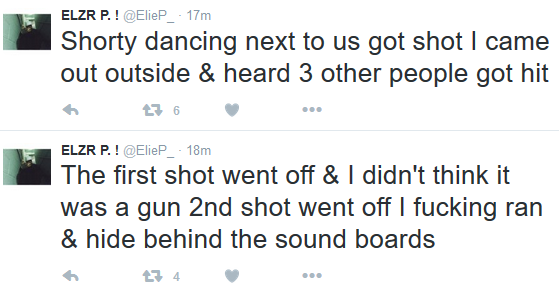 We will update with more details as they become available.