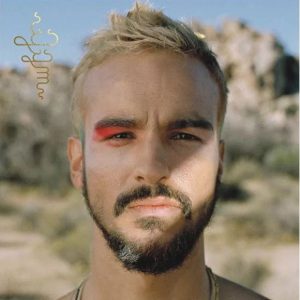 There's so many ways that people describe musical acts today. Of course you have the artists that require no introduction. A simple ad-lib in the first three seconds of a song is enough for most music listeners to know who these artists are. These acts are recognized on a first name basis. Your Drakes, your Futures, your Hovs, etc. Then you have the group that is described by their most popular song. This is where your Bobby Shmurdas, iLoveMakonnens and OG Macos would fall. Finally, you have the acts that have some strange, roundabout connection to an artist that they've never actually worked with before. Enter Gabriel Garzon-Montano, the multi-instrumentalist New Yorker of Colombian and French descent. I wish there was a better introduction for him, but for lack of a better one, he's the guy that Drake sampled on 'Jungle' off his 2015 If You're Reading This, It's Too Late mixtape. To relegate Montano's talents to a mere sample is borderline insult. But this is early 2017 and two things are hard to deny: Drake's star and influence are bigger than they've ever been and telling people that Montano is the guy Drake sampled on one of his songs is the only description I've seen that piqued enough people's interest to give an artist they've never heard of a chance. With Jardin, his first major label full length, he looks to escape that shadow.
--advertisement--
The sample that most music listeners inadvertently know Montano by was the entrancing, almost hypnotic undertone that carried Drake's Jungle. The song which that sample's origin derives was Montano's just as captivating 2014 song 'Six Eight'. The song showcased an artist with a promising voice, strong melodies, but not yet quite enough feel for tight song structure. Jardin breaks this right from the start as it opens with 'Trial', a song clocking in at just under two minutes. Accompanied with a string arrangement, Montano's airy vocals take the forefront as the song appropriately ticks along while he croons about time and fame. The opener comes to an end almost as quickly as it began and the thump of single 'Sour Mango' takes over. While he doesn't have the vocal chops of some of today's most talented singers, he also doesn't overextend himself. This is not to say that he doesn't take risks, just that he lets his voice work in tandem with the production as opposed to one outshining the other. Mango proves Montano's ear for combining his funk and soul tendencies and wrapping them into a slick pop package. He does something similar on the thumping single 'The Game' as well. The songs never try to out-spectacle the groove they create. He could easily let them traverse into cliché hook- bridge-verse format, but he never does. It's as if you're listening to a live jam session where Montano is playing off the crowd's reaction for what he's going to do next. Making these songs all the more impressive is that it was almost entirely arranged, produced and played by Montano.
The more traditional R&B elements shine throughout the album as well. 'Cantiga' is reminiscent of 'Six Eight' in that it slowly churns, but always feels like it's growing even though there aren't an overabundance of elements at play. The word cantiga itself means "music consisting of one musical line, without accompaniment", and while the song isn't quite that bare, it shows Montano's ability to create something engaging with minimal add-ons. 'Bombo Fabrika' contains a sporadic drum pattern that evolves into full on funk jam by the songs conclusion. He uses his humming and background melodies as added layers of production to create songs that aren't content with emulating what you hear every day on the radio. The album's brightest moment is also its most pop leaning one. Just before the album comes to an end, Montano gives us 'My Balloon'. To say this is the moment that it was apparent that Montano was destined for much bigger things than being referenced as "the guy Drake sampled" is an understatement. Had Balloon been created by a more established artist, it could easily find a niche in steady radio rotation in certain parts of the country. As is, it could easily take off with placement on the right Spotify or Apple Music Playlist. It almost feels like he placed this song at the end of the album to make listeners hear who he was and get to know him a little before showing them that he could deliver an undeniable pop jam that they'd struggle not to mash the replay button on. He closes the album with 'Lullaby', a song that almost mirrors the intro track in length and tempo. It's a soothing end to an album that spends most of its time dancing.
Jardin is a project that dazzles due to its lead's commitment to its direction. It's rare that an album where the artists attempts to do almost everything on his own doesn't verge on self-indulgence in spots. Montano straddles this line flawlessly. While Jardin is not without its flaws and by no means a masterpiece, it is the work of a young, self-assured artist that has the ability to take his career as far as he desires. Where he decides to go from here is up to him. What's certain going forward is that no longer is he "the guy Drake sampled". He's the guy that made Jardin.
Repeatable: 'My Balloon', 'Sour Mango', 'Bombo Fabrika', 'Cantiga'
Skippable: None
By Scott Evans