Prior to the release of her new album Queen, Nicki Minaj was criticized by media outlets for attacking a freelance journalist named Wanna Thompson (@WannasWorld on Twitter) after she offered her opinion on the content of Nicki's recent music.
"You know how dope it would be if Nicki put out mature content? No silly sh*t, just reflecting on past relationships, being a boss, hardships, etc. She's touching 40 soon. New direction is needed," she said in the tweet, a screenshot of which you can see below.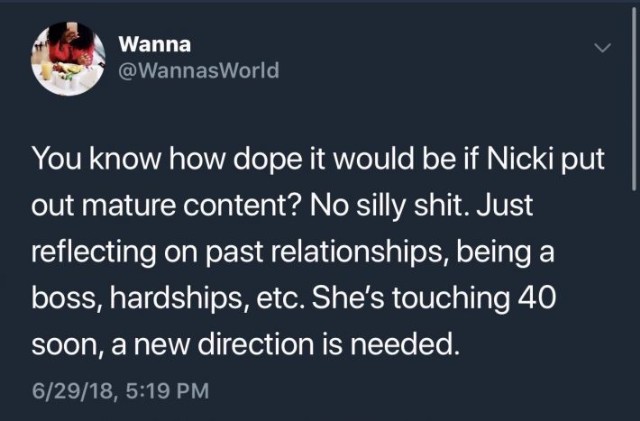 This led to Nicki jumping in Wanna's DMs and allegedly viciously attacking her. "Eat a d*ck you hatin ass h*e. Got the nerve to have a Trini flag on your page. You must not have heard the Pinkprint or "Pills N Potion" "Bed of Lies" "Save Me" My recent feature with Alicia Keys, Tasha Cobbs," Nicki responded. "Just say you jealous. I'm rich, famous, intelligent, pretty and go! But wait, leave my balls. Tired of you sucking on them."
Here is a tweet that made Nicki Minaj reply in her dms. The American superstar got touched by Wannasworld tweet and replied claiming she's hating and she even got death threats from nicki's fans. pic.twitter.com/bozTqlNJcc

— HIPHOP CHART WORLDWIDE (@HH_C_WW) July 1, 2018
Wanna soon had to make her account private alleging that the rapper's loyal fan base was sending her harassing and threatening messages all day. NY Times was critical of Nicki's alleged behavior and even did an interview with Wanna. "If I knew it would get this much harassment and that my daughter would be affected, I don't think that I would have posted it," she said. "Every person has a right to defend themselves and react to certain statements. But when you start to insult somebody, you've crossed a line.
Forbes did something out of the ordinary and published an article attacking Nicki over the situation and that she collaborated with controversial rapper 6ix9ine on 'FEFE'. They called her rollout for the new album "reeking of desperation and hypocrisy." Now in a an hour long interview with Funk Flex on Hot 97, Nicki has addressed the incident for the first time and said something interesting: that she never responded to Wanna.
"It was just a lonely weak loser who said that he was mad that I was taking Tekashi on tour and he was mad I responded to some lady who I didn't even respond to but they ran with that story," says Nicki around the 1 hour 2 minutes mark when Flex asks her about the situation. When the Hot 97 veteran asks her to clarify who it was, Nicki responds "who cares, let's move on." Watch the relevant clip above and Nicki Minaj's full interview with Flex below.
In an interview with DJ Clue on Power 105 last night (Monday), Nicki said that she wants Meek Mill to make "turn up" music instead of pain music. She also talked about collaborating with 6ix9ine, her first weed experience and more. Her album Queen is expected to move 135-150k copies in the first week.