If you spent time online around the year 2010 and were interested in Kanye West's music, you would probably be aware of the great mystery behind the original version of his excellent album, My Beautiful Dark Twisted Fantasy.
For those who don't (even I had to revise some of the facts — it's been a long time!), there was a file named recordforhype.zip that was reportedly hacked by an unknown person from an email account. The .zip file was sent to someone from the management team of Hype Williams, the storied director who was supposed to create multiple visuals for the album. The purpose? So Hype could get a feel of the music and start creating ideas around it.
It was an early version of the album with some songs slightly different from what came out as the final product later in November, 2010. Somewhere on the way, the file got hacked and then leaked on to the internet.
However, there were two issues with the file. 1. It was very carefully protected by multiple passwords — one for the entire folder and then separate ones for each song. 2. The files when unlocked were coming up as "corrupted" in extraction software. For the past 10 years or so, users on the internet with expertise in decryption have tried to unlock it but to no avail. There was even a fierce effort by some KTT users seven years ago — again with no success.
However, on Sunday night, some chatter began on the YandhiLeaks Reddit forum that multiple passwords for the individual songs had been decoded.
Once they were able to unlock it, it still asked for a "master" password which was obviously not in anyone's knowledge and we all know how hard it is to randomly guess them. Then came a big breakthrough by a mysterious and unknown person on message board, 4chan.
The anonymous user by the name of No.76948988 wrote: "password is wewantmoney. it's not corrupted. music sucks."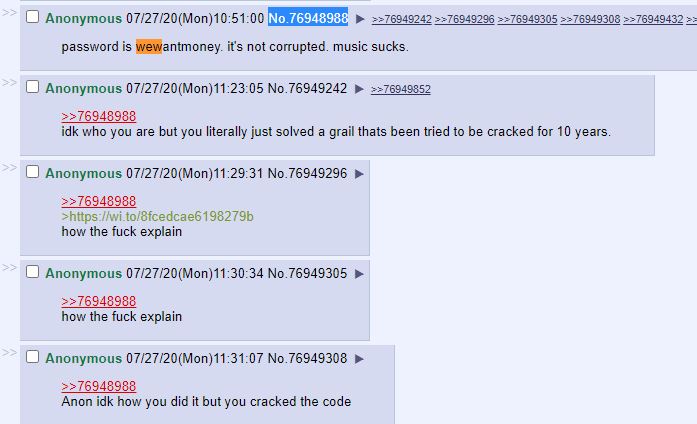 "idk who you are but you literally just solved a grail thats been tried to be cracked for 10 years," one user replied to the person. "how the f*ck explain," another wrote. "This random anon doesn't realise he has just become part of music history," said one message.
They are not exaggerating, this user has become a part of internet history for sure, solving one of the greatest mysteries for a Kanye fan. And yes, the file recovered is absolutely legitimate. There are 16 tracks in total and a few of them sound different in one way or another from the final copy of the album, for example, 'Blame Game' has Kanye himself singing the chorus instead of John Legend. Also, 'Monster' on this version has Nicki's verse but not Jay-Z's which tells us she recorded hers before him.
"This copy is for Hype Williams" runs across each track on the album as a watermark. We're sure this is about to be a thing on social media. There are also two interludes on this copy: 'Holding Me Back' and 'Sweat On My Face' (update: S1 tells me he produced that) which hardly have any vocals.
Sweat on my Face (produced by S1) 😎 S1

— S1 (Symbolyc One) (@SymbolycOne) July 27, 2020
Check out the tracklist:
1. Hell Of A Life
2. Dark Fantasy
3. Power
4. Chain Heavy
5. Ghetto University
6. That's My Bitch
7. Runaway
8. Lost In The World
9. Gorgeous
10. Monster
11. Holding Me Back
12. Devil In A New Dress
13. The Joy
14. So Appalled
15. Blame Game
16. Sweat On My Face