When Wale teased his new video 'Flawed' featuring Gunna with a trailer last week, a name during credits caught our attention. It was Melissa Forde, an avid photographer and Rihanna's best friend.
We were all, of course, quite intrigued with it and were looking forward to seeing the video on Thursday. When it came out, it certainly did not disappoint and in fact, stood out on the crowded release day from Thursday night-Friday morning when most artists drop new material. Being Rihanna's BFF, Melissa, who is often recognized as "M Dollas" thanks to her social media handles, is always in tow with the mega star. Whether it is attending fashion events, doing shoots, vacationing or just enjoying a blunt, she and Rihanna are often inseparable. They've known each other since their time in Barbados, when Rihanna was just 14 and have stuck together since then.
But that is certainly not her resume. Melissa is a talented photographer, a fashion enthusiast and an entrepreneur (she had a whole bucket hat collection in 2015). Even Rihanna regularly credits Melissa on some of the photos clicked by her friend, using the hashtag #MTFPhotography.
Melissa has now landed her directorial debut with 'Flawed', a stylish, black and white video that she shot along with her co-director Joseph Desrosiers aka June. The best part about it? It looks nothing like any rap video out right now. Melissa tells us that it was a part of her vision.
So how did Melissa end up with this opportunity? "This other guy June (Joseph Desrosiers), he directed the video with me and he has done several videos before including Migos 'Narcos' & 'Walk It Like I Talk It', Offset 'Red Room' and more. We have been friends for almost 10 years and he has been pushing me, encouraging me to start directing, telling me that photographers make amazing directors because they have a different eye," she tells us on how it all started. "I was actually in the studio with Wale when he made the song with Gunna and he called me to take pictures of him in the studio. After the pictures, Wale is like 'hey can you give me some creative direction on what we should do with the video' so I immediately went to my phone and started looking at pictures that I had saved on it," she continues.
Melissa says that right from the jump, she wanted to make the video look like a cinematic masterpiece. "As a photographer I keep saving images and ideas in my phone as mood boards for shoots so these pictures that I had were actually photos that I wanted to do for a photoshoot. After listening to the song over and over, I thought this would be a great idea for the video, like super cinematic. I wanted it to feel out of this world because the song gave me such a good feeling. I was sure that I wanted to make the video feel like a movie. I want it to feel cinematic but not dated at the same time and that is why I chose black and white. I wanted that it should not just fit to a particular season but make it look like it could last forever."
She adds that she wanted to make the music video standout which meant no flashy outfits, girls showing off their assets etc. — something we see in rap videos every day. "I didn't want this video to have girls in skimpy outfits, twerking and all that. I wanted to push the creativity and even with Wale and Gunna, I wanted to make them look like models almost."
View this post on Instagram
Melissa didn't just land in the studio with Wale and Gunna out of nowhere to shoot some pictures of them. Wale and M Dollas go way back, back to when Rihanna appeared on the remix of Wale's hit 'Bad' in 2013. In 2015, they even collaborated on Melissa's bucket hat collection. She has been friends with the rapper ever since, calling him a "great guy."
"Wale is genuinely a great guy. He is a true gentleman and has always been a great friend. Initially I met him years ago when he did the 'Bad' remix with Robyn [Rihanna]. We met at the Greenhouse [nightclub] in New York back then. So after he did the collaboration with her, we all remained really good friends because he is just a really good guy," she says about her relationship with Wale. "Always calls to check on me, always makes sure I am good. Any business opportunity he has, he always checks with me if I want to be involved in anyway and anyway I can help him. It is actually very easy to be his friend. Overall a great guy."
The co-director Joseph Desrosiers added his two cents on the experience of collaborating with Melissa on 'Flawed', saying "I always had this thought that photographers often are great directors because they have a different vision. For example a photographer is only taking a still photo whereas a video person is shooting something so I feel like a photographer's job is much harder to make it look good. They have to make sure the whole set, the background and everything else in the photo looks good to make that impression. So with Melissa, apart from the fact that she is really talented, she is my friend too and a lot of my own work has happened because of the connections I made through her. So to come full circle like that it was really special that we were able to do this together."
June went on to explain how Melissa's vision brought a new light to the visual. "Some of the concepts in the video, like with the girls' role in it and how we wanted to structure the set, Melissa was very hands-on and particular with it. Even cutaways for example — because she had all of that properly in place, it made my job much easier. I loved collaborating with her, and I love that a woman was able to execute the vision. It also helped that Wale and Gunna were always on time and ready to go. I want to praise the artists because it can't go smooth unless the artists are on time and ready to go."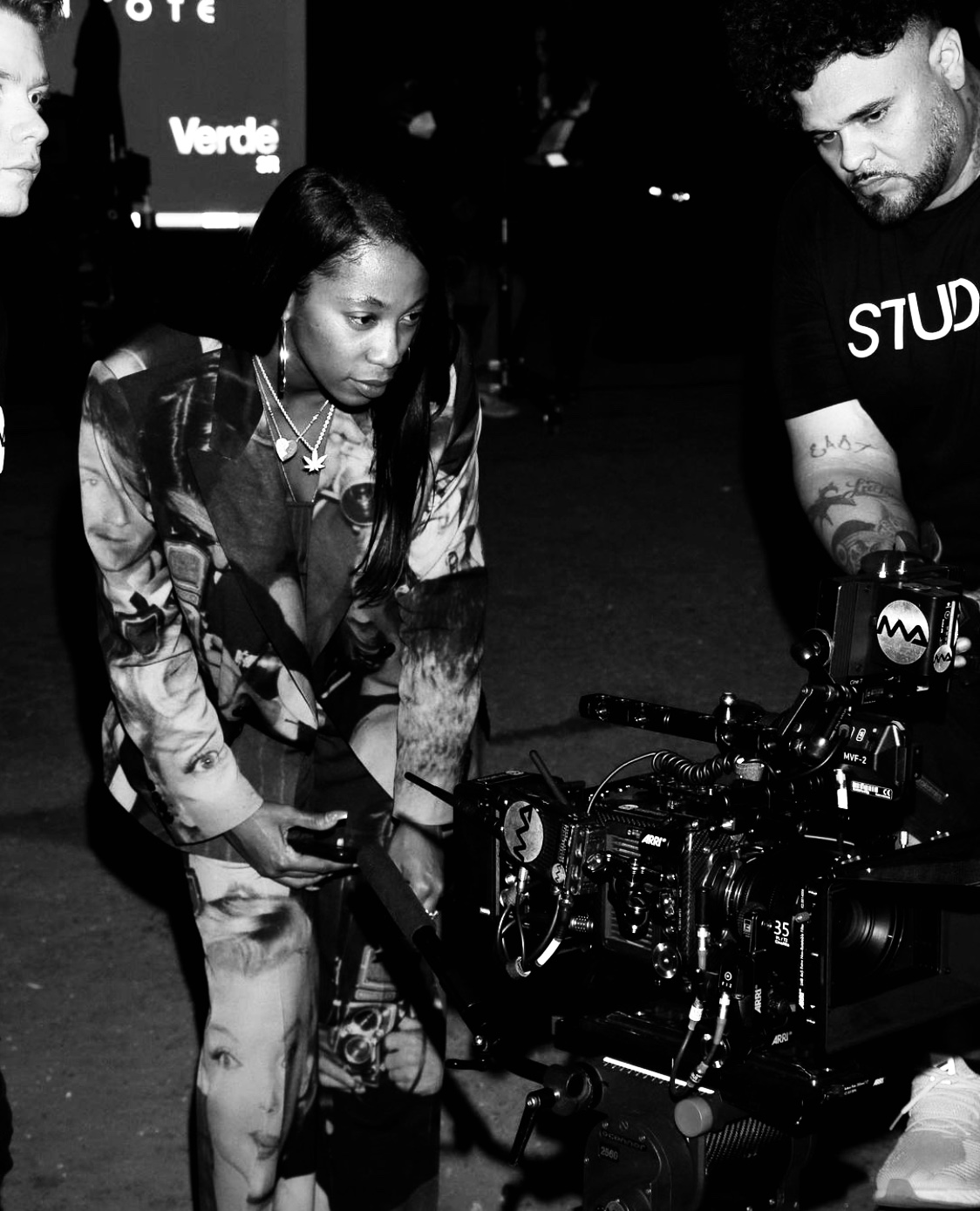 Wale tells us that choosing Melissa for the job was a no brainer as he has always believed in her creativity. "Choosing Melissa along with June was easy for me as I trust her and her vision. I have trusted and appreciated her vision for a long time now."
Ms. Forde reveals to HHNM that we can expect more directorial ventures from her in the near future. "I am definitely open to more videos, I definitely want to get into that more. Now that I have got a real taste of directing, I want to get into more videos, films, TV shows, all that. This project was so much fun and I learned so much from June. I remember that the day after we finished shooting, I could barely sleep because I was so overwhelmed and excited. I came back home at 5 a.m. And could not sleep for several hours because I was so excited. I am definitely looking forward to doing way more."
View this post on Instagram
Being best friends with someone like Rihanna puts a lot of eyes on you and can sometimes get tough to deal with all the fame and paparazzi, even for people who are used to it. But Melissa says all of that doesn't really matter to her as her friendship with Rihanna is built on a very solid foundation. "Well it really doesn't matter to me anymore. My best friend is a grown, very grounded woman, very much so the same person, I mean she has grown of course — but the same person whom I met when she was 14. Yes the fame and the paparazzi and stuff and all of that comes with it but I just enjoy being here and supporting my friend. We are just blessed that we are able to do what we all like to do, really. A lot of people have a lot of goals and dreams and just cannot find a way and this is just encouragement for people to know that wherever you are in life, always try to chase your goals and make your dreams come true."
Yes we did ask Melissa what is going on with Rihanna's upcoming album which is anticipated by millions of fans across the world at the moment. "Unfortunately, that's something I can't really discuss but just know that you guys won't be disappointed," she assures us.