If you've been on social media or seen the homepage of a digital streaming service at all in the past 13 hours or so, you'll know that last night was a big night for Drake. He not only announced his own radio station SOUND 42 over at Sirius XM, but on the returning episode of OVO Sound Radio, he debuted three new songs; 'What's Next', 'Wants And Needs' featuring Lil Baby and 'Lemon Pepper Freestyle' with Rick Ross. You can listen to them all here.
The latter of those once again has people talking about a collaboration project between Drizzy and Rozay. You might remember that years back, the pair were working on The YOLO Tape after Ross coined the phrase on 'Lord Knows' and Drake ran with it on 'The Motto'.
That never came to fruition and while the name is a definitely a little dated now, fans have always wanted a full body of work from the duo, considering the love for their past work like 'Free Spirit', 'I'm On One' and more.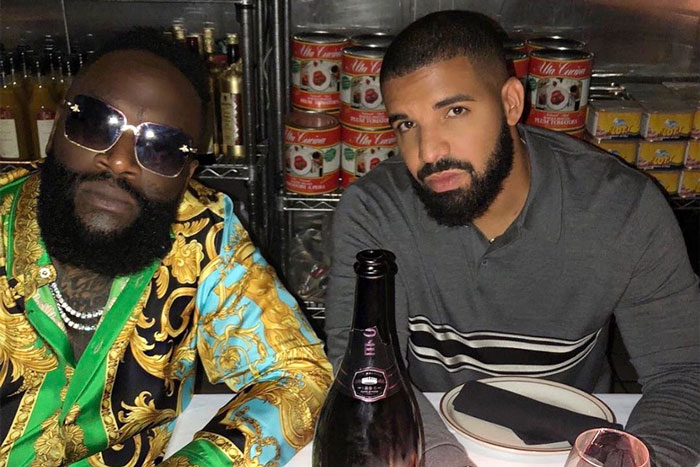 Earlier today on Twitter, Spotify's Rap Caviar account asked fans what their favourite Drake and Ross collaboration was and the most interesting answer they got was from Chad Johnson. Ochocinco replied saying that they are working on a joint album that will be the best thing either of them have worked on to date. Check out the tweet below.
The joint album they're doing together with unseat all projects they've done to date 🤫 https://t.co/GJDlW2gpmb

— Chad Johnson (@ochocinco) March 5, 2021
Who knows how seriously to take this? One one hand, it's weird to have been revealed like this, but Drake and Ochocinco have been connected in the past. In 2014 when Chad was having visa issues, Drake went out of his way to speak with Canadian authorities to help him in the country. We're still not sure if this is something we'll ever get but it would definitely be very welcome.