Run The Jewels has announced their RTJX tour to celebrate their 10th anniversary in the game.
The duo made of Brooklyn's EL-P & Atlanta's Killer Mike will be playing a series of anniversary live events being presented in New York City, Atlanta, Chicago, and Los Angeles this Fall. Coming on the heels of the 10th anniversary of the duo's impactful debut, the group will do four shows in each city named above, performing a different set each night spanning the band's full discography while inviting special guests throughout.
Tickets go on sale this Friday at 10am local time, with a special fan pre-sale starting tomorrow. Fans can sign-up for early access to tickets on this link.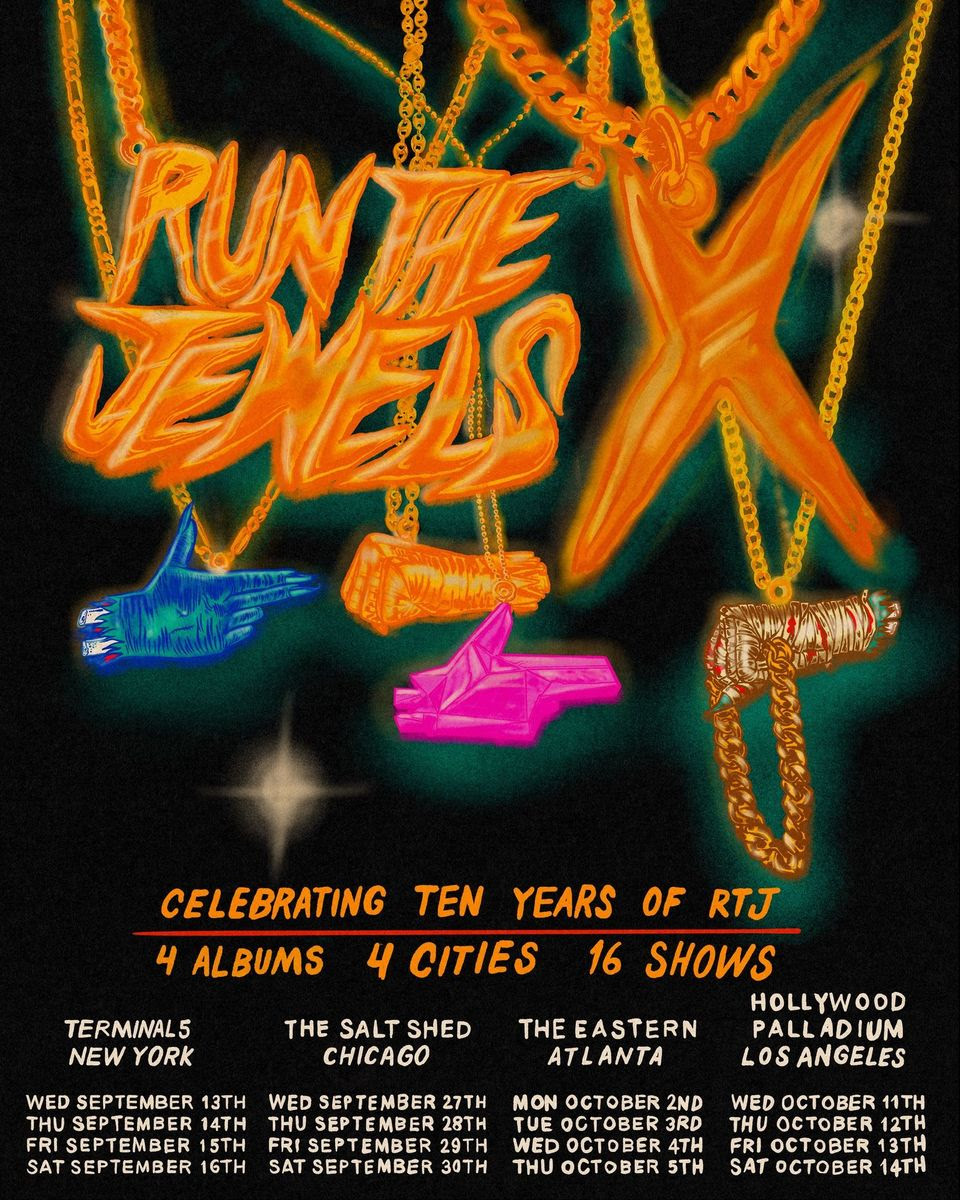 "It's mind blowing to us that it's been 10 years since we joined forces as RTJ. The best way we can think to celebrate is to get the whole family together and do what we love for the people who love us back. It's going to be amazing, just like this entire ride has been, and we are grateful to get a chance to celebrate with our jewel runners this year and finally get back into clubs to destroy some stages for you. We're doing 4 cities, 4 nights each, and 4 full albums worth of jams, many we have only performed a small handful of times during our whole existence. So on night one it's RTJ1 in full plus many more songs from the other records, night two it's RTJ2… etc. etc. We can't wait to get out there and see you," said the duo in a statement.
Killer Mike is currently prepping the release of his new album Michael, with features from Andre 3000, Lil Wayne and Dave Chappelle.
RTJX – CELEBRATING 10 YEARS OF RUN THE JEWELS TOUR DATES:
Sept 13 – New York, NY – Terminal 5
Sept 14 – New York, NY – Terminal 5
Sept 15 – New York, NY – Terminal 5
Sept 16 – New York, NY – Terminal 5
Sept 27 – Chicago, IL – The Salt Shed
Sept 28 – Chicago, IL – The Salt Shed
Sept 29 – Chicago, IL – The Salt Shed
Sept 30 – Chicago, IL – The Salt Shed
Oct 2 – Atlanta, GA – The Eastern
Oct 3 – Atlanta, GA – The Eastern
Oct 4 – Atlanta, GA – The Eastern
Oct 5 – Atlanta, GA – The Eastern
Oct 11 – Los Angeles, CA – Hollywood Palladium
Oct 12 – Los Angeles, CA – Hollywood Palladium
Oct 13 – Los Angeles, CA – Hollywood Palladium
Oct 14 – Los Angeles, CA – Hollywood Palladium