droppTV, the first-ever shoppable video streaming platform & app, has launched and looking to make a mark immediately. On droppTV, you can discover the freshest music video premieres and the newest hype gear which you can cop instantly from the videos as you see them, in real-time and simply by clicking on them. There are no ads or pre-roll either. The platform works for artists too; with an average artist making up to $500 per 1000 streams, according to the company.
Fans can cop merchandise and exclusive products right off your favorite artists and at unbeatable prices. it is now available on iOS and Android.
Within new music videos from both established and rising artists such as Manny Litt, Kid Daytona, Dash Gwoppo, and soon, A$AP TyY, Stixx Taylor and Ashanti, droppTV boasts exclusive, limited-supply hypebeast drops, raffles, and more — from sneakers, to clothing collaborations, and even furniture and fine art.
Have you ever watched a video and seen an outfit that you wished was in your closet? With droppTV, it only takes a click to make that happen. You can snag hard-to-find sneakers at the cheapest prices, much lower than resale prices. For example, these Yeezy Boost 350 V2 Zebras were just $220 within Manny Litt's 's music video "I Can Tell Ya." The hot shoe had been restocked 5 times after launching in 2017, and most other resale sites are selling them for over $360. The Air Jordan Retro Metallic Purple kicks were just $200 on droppTV in Trips_Sog's "Shine" even though the resale price is ~$319+ (they're now sold out on droppTV).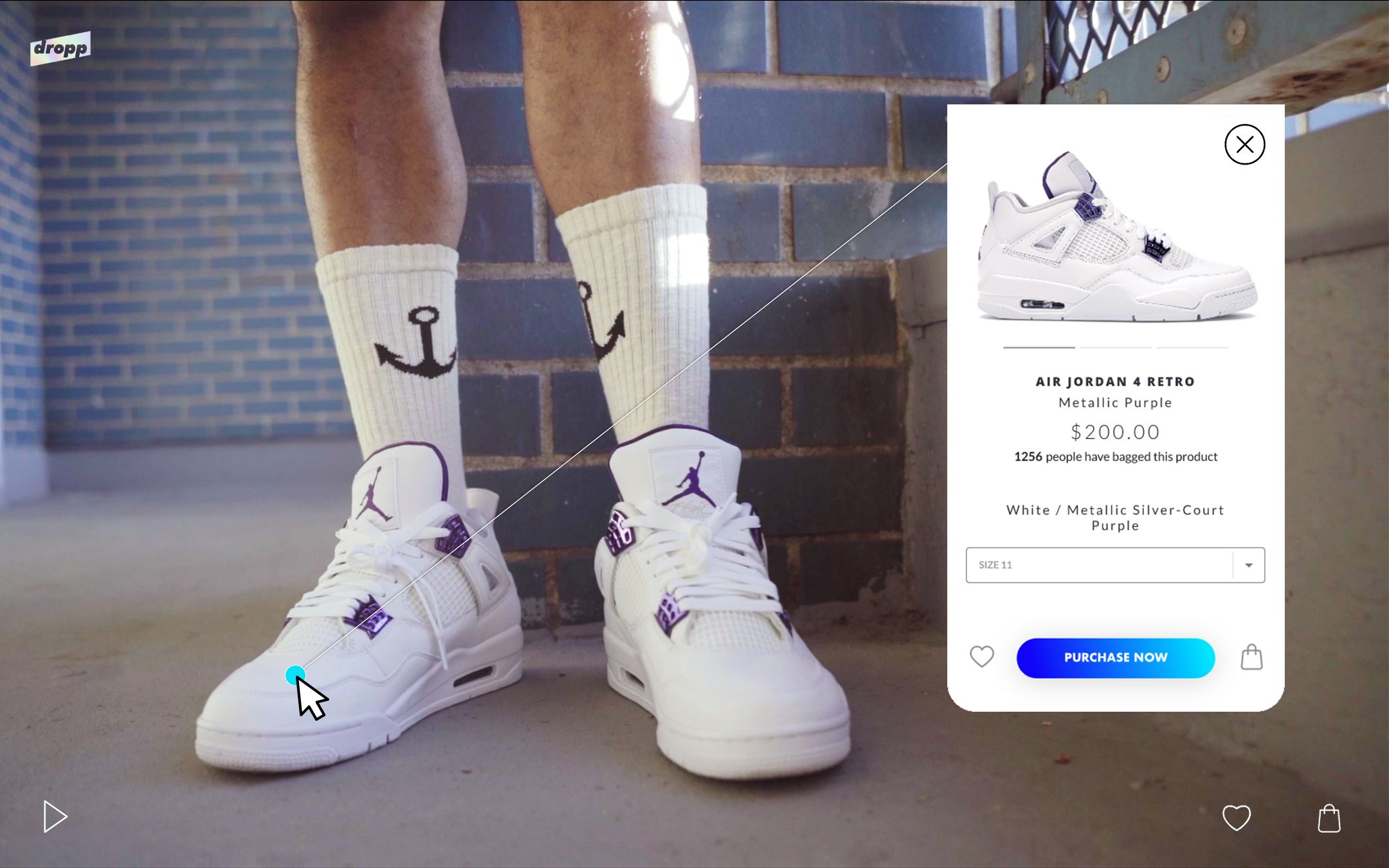 droppTV is also providing a much-needed revenue stream for COVID-impacted & Black-owned retail businesses. Grammy Winner, Songwriter, Producer and Actress, Ashanti, recently announced to her 6M Instagram followers that she will soon release a new and exclusive music video on droppTV solely featuring Black-owned businesses, to provide them recognition and an opportunity for revenue during this challenging time.
New shoppable videos with new merch dropps launch every Saturday at 12 PM EST. Coming up this Saturday, Cincinnati rapper Dash Gwoppo will release the music video for his single KY@3AM, featuring a limited amount of currently sold out Dior and New Balance kicks.
The droppTV platform is powered by the company's proprietary artificial intelligence, which recognizes products in video content and tags them in real-time, allowing for frictionless in-content purchasing. Viewers can watch droppTV and make purchases on any device – smartphone, tablet or desktop.