UPDATE 2: T.I. has posted an 8 minute video to social media, vehemently denying all allegations.
UPDATE: T.I. and Tiny have released a statement denying all the allegations.
"Mr. and Mrs. Harris want to be on record and more importantly want the public to know they emphatically deny in the strongest way possible the egregiously appalling allegations being made against them by Sabrina Peterson," the statement read. "The Harrises have had difficulty with this woman for well over a decade. They are taking this matter very seriously, and if these allegations don't end, they will take appropriate legal action."
Sabrina has already reacted to the news on her Instagram, writing, "LETS TAKE A LIE DETECTOR TEST!" in the caption.
Previous story:
T.I. and his wife Tiny are facing allegations of trafficking and mistreatment of women and minors.
The rapper was first accused by Atlanta based businesswoman Sabrina Peterson for putting a gun to her head in front of her children. She revealed that she did not file a police complaint but is now breaking her silence because he was painting her as "the villain" in front of everyone.
"The sad part about being a woman & BEING A BLACK WOMAN IS THIS! The public PRAISES OUR PREDATORS! @troubleman31 you PUT A GUN TO MY HEAD IN FRONT OF CHILDREN & I NEVER CALLED THE POLICE ON YOU! But for years you have painted me as the VILLAIN!" she captioned a picture of her on Instagram.
View this post on Instagram
In the comment section of The Shade Room, Tiny defended her husband, writing "Hold up… So you want your abuser to train your sons? He was just uncle 2 years ago Now when did you say my husband assaulted you? Did you change your mind or change it back? What wit you today Pooh? I'm confused," she wrote. "Stop Harassing My Family. You strange. Everybody know you been special (face slicing seminar lady). Please get help but LEAVE US ALONE."
But Tip and Tiny are now facing more serious allegations. Sabrina compiled a series of messages she received from various women on her social media accounts who claim that T.I. and Tiny forced them into sex in situations which often also involved drugs. In the screenshots shared publicly, it seems that about 18 women have come forward with their own horror stories. There's one about an underaged victim who claims she that she was forced to have sex with T.I. during the 2005 NBA All-Star Weekend in Colorado.
Victims of TI and Tiny are speaking out. Almost all their stories are identical and they involve drugs, coercion and rape. pic.twitter.com/TnhKzCbwWW

— Jiggles (@lovejiggles) January 28, 2021
TW!!! Rape, drugging, abuse, etc
/
/
/
/
/
/T.I. And Tiny's ex friend (instagram: theglamuniversity)came out with her own story of abuse from them yesterday. Since then, 19 others have also come forward. Here are some of them. Some of the victims being as young as 15 years old. pic.twitter.com/pR0rUN7WSW

— Maya Angelique👑 (@moneyymaya) January 28, 2021
There's another story where the woman was invited to the Ritz-Carlton to T.I. and Tiny's suite where her phone was confiscated and drugs like molly and cocaine were given to her for the activities.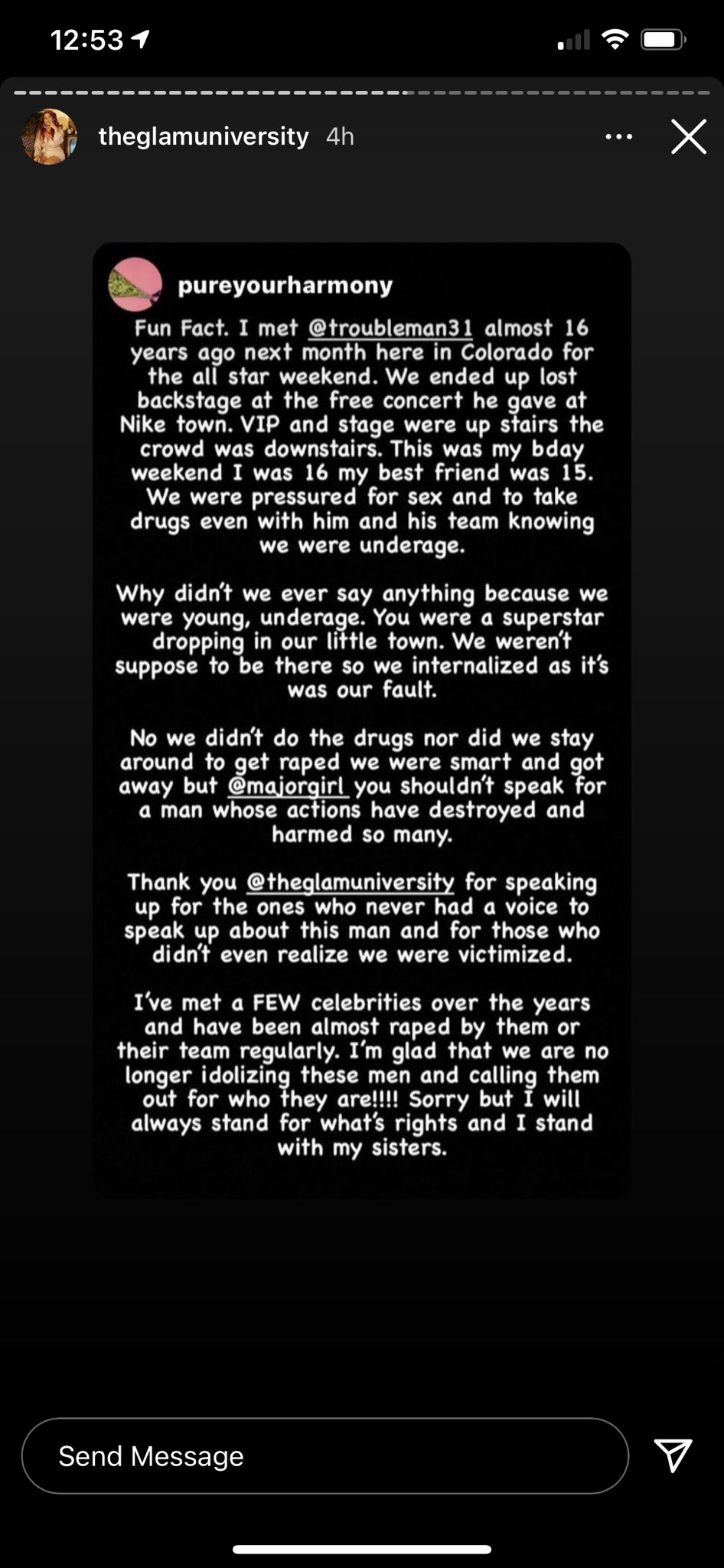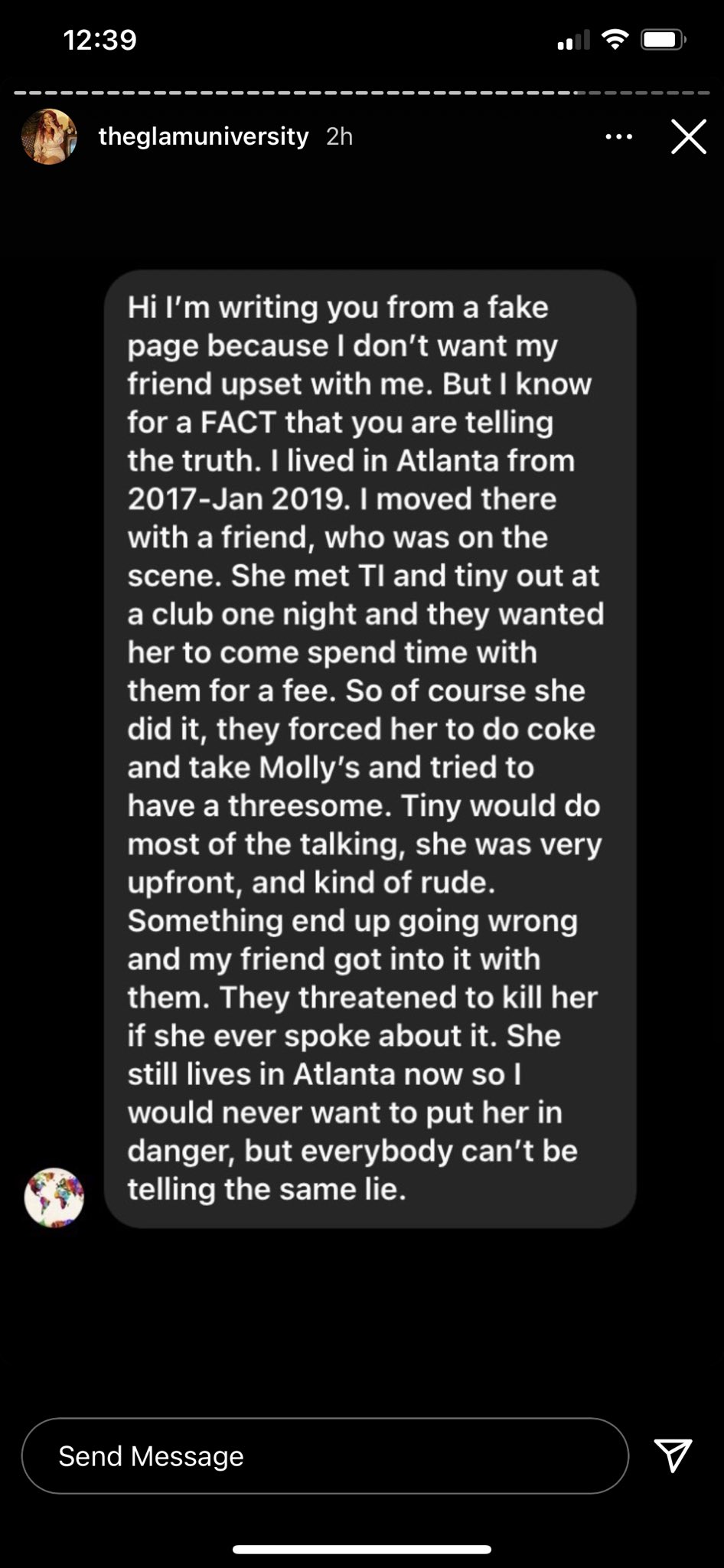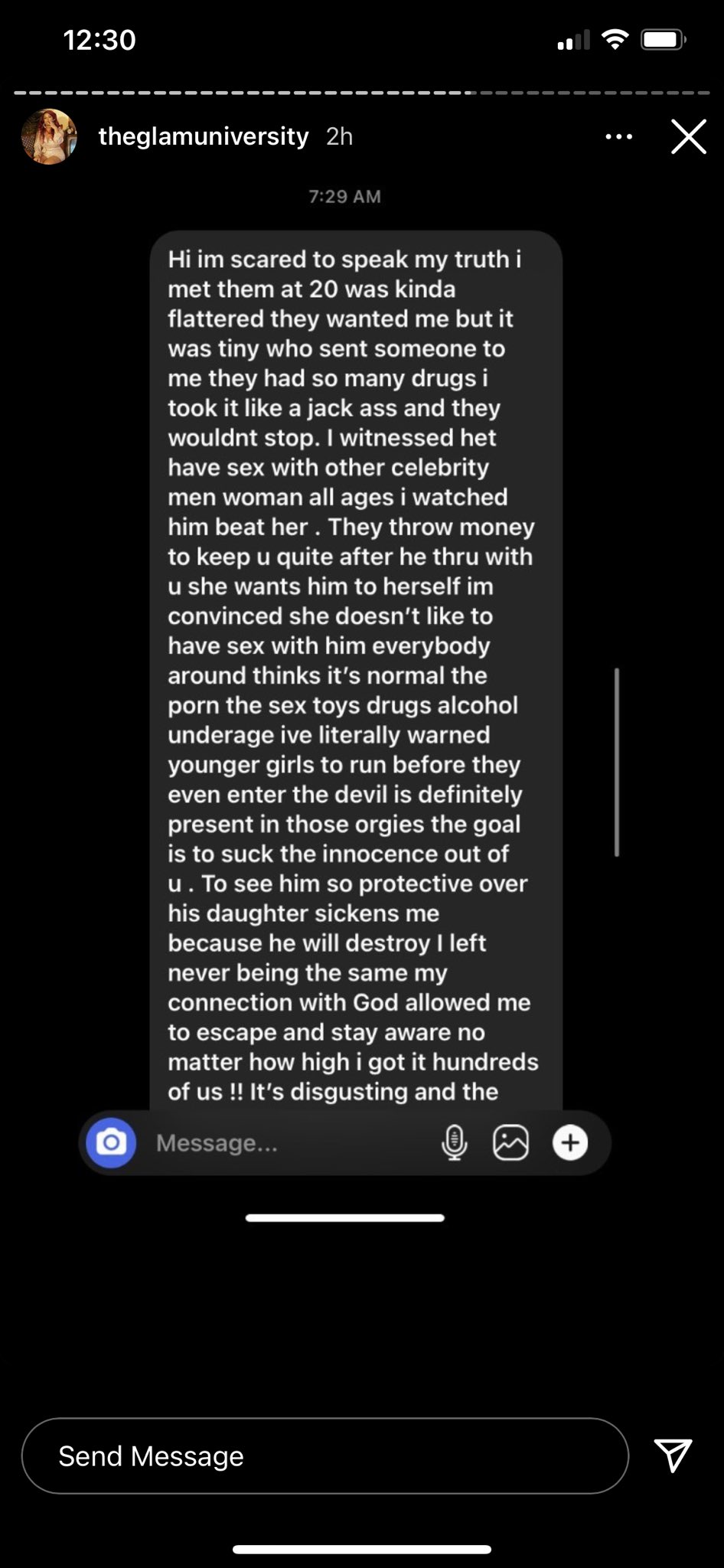 T.I. and Tiny have not reacted to the allegations yet but Peterson says she plans to take legal action against the couple. We will keep you updated on this story.