droppTV, the first-ever video streaming platform & app to enable shopping inside music videos, just unveiled "droppTV 2.0," a full release of the app from last year's successful soft launch with a sleek, redesigned look, robust video/product search and filter engine. Along with the launch of the full app, droppTV is debuting an impressive lineup of exclusive shoppable music videos from prime hip hop artists and sought-after hypebeast kicks, LG tech gear, artist merch, and more.
The full launch features a new homepage, provides more comprehensive access to artists, videos, brands, and product information. droppTV has unveiled dedicated artist pages, video pages and shoppable behind-the-scenes, unboxing, and artist interview videos. Now you can learn even more about your favorite artists and the must-have products in their videos. droppTV will soon launch NFTs and other digital tokens creating unique purchasing experiences of select artist merchandise, art, music and more. These tokens will also offer exciting access to special items, deals, and early video viewing providing access to highly anticipated products (hint – sold out gaming console). 
Some of the new droppTV hip hop music video premieres in the lineup are:
Stunna The Kid – "On The Low": Off his October 2020 album Never Go Broke and on the label 307 Music Group, Stunna the Kid takes his sleek red ride throughout Vegas and the Nevada desert in this video shot by Kerrigan Production. From Air Force 1s to Los Angeles Angels jerseys and snapbacks, these visuals have a ton of hypebeast gear to shop – get it while it lasts.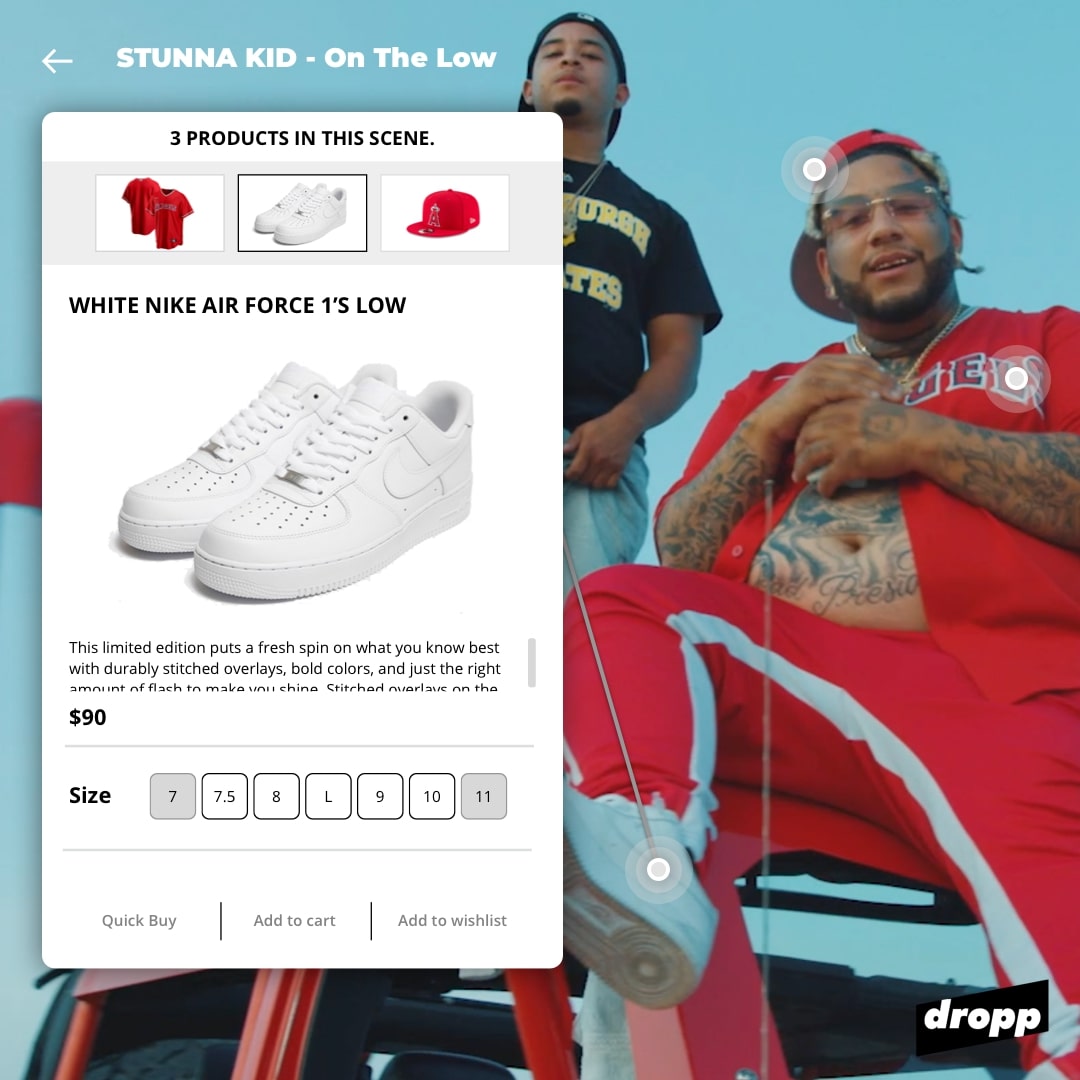 Tone Trump – "Survivor": West Philadelphia's Tone Trump has worked with CeeLo Green, Akon, Young Jeezy, Freeway and Birdman. In "Survivor," directed by Seem.Vision, he continues his mission to give back. On droppTV, viewers can donate socks to homeless shelters by clicking on them as they appear in the video. His charitable work has already led to 100,000 sock donations in Philadelphia. In the video, the Muslim rapper also dons his merch collection and Jaclar Intimidator Hi White kicks, which people can click and buy straight from the video player. These visuals are one of three Tone Trump is dropping on droppTV's video marketplace.
$2 Fabo – "Jet Pack": Fresh off making waves on TikTok for his viral dance with Juneelite – the creator of the #JuneBugChallenge, $2 Fabo returns to droppTV for his second video release with "Jet Pack." Per Fabo, the premise for this video is: "Outer space. I watch a lot of Sci-Fi such as Star Trek and Star Wars. I always fantasize about going to different worlds. For this song and video, I do my best to bring that to light." The song was produced by legendary producers, Rozart and Zaytoven, and the video was directed by Carmel Ceravolo. Regarding the song title, Fabo adds, "90% of the guys and even girls I know carry some sort of 'Jet Pack' which carries all of their essentials. During Coronavirus, I felt myself leaning more on my Jet Pack because it is the place I keep my sanitizer, disinfecting wipes, and mask alongside my other essentials." Within the video you can cop exclusive GIK merch (Fabo's record label) & LG products. 
Other artists launching shoppable videos on droppTV in March are The Kid Daytona, returning to the platform with "Super Valid"; Atuedad, the larger-than-life latin musician dropping a short film music video for his album "Tusilandia"; Stixx Taylor, Justin Bieber's long-time drummer, with "Dreamz"; Reggie Revels; Yana Toma; Tommy 5K; NEEKOE; and Livia Lianna.
Check out dropp.tv online or download the app on iOs or Android.