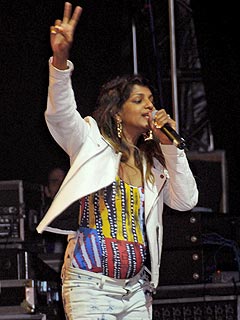 M.I.A., whose single "Paper Planes" shot her into the mainstream over the past year, is scheduled to perform at Sunday's (February 8th ) Grammy Awards in Los Angeles, despite being nine months pregnant.
The British/Sri Lankan rapper's "Paper Planes" is up for Record of the year, and even though she's heavily pregnant, she's being a trooper. In fact, her due date is day of the Grammys, said reports.
"They say that you're often late the first time, so I'm planning to go," she told USA Today. "We'll see. People are trying to get me to relax and focus on the baby. It's like being in parallel universes."
Not only is she performing, or has agreed to perform, but she will grace the stage with Jay-Z, T.I., Kanye West and Lil Wayne for their "Paper Planes"-sampled single "Swagga Like Us."
Sounds a bit ridiculous to me..