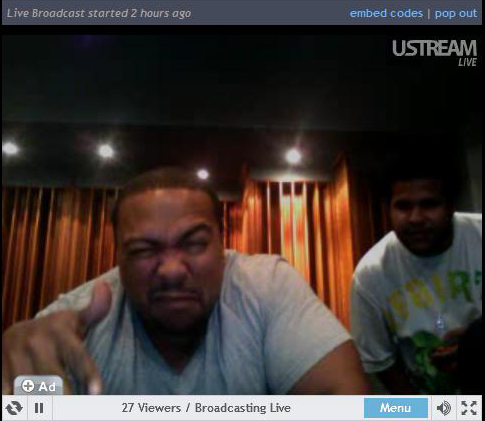 So Timbo was live on UStream a few hours ago and he spoke about his new album, the highly anticipated Shock Value 2. He also played some beats and took some names that are going to be featured on the LP. The album is slated for a first quarter 2010 release as of now.
Here's the confirmed lineup:
Estelle
Danja
Keri
Jonas Bros
Daughtry
Hollywood Undead
Jim Beanz
Amar
Justin Timberlake
Jay-Z
Usher
Chris Brown
Missy
Drake
Pharrell
Sebastian
Hit the jump for more info on this including Timbo saying: "of course I'm not going to give Jay my best material".
I heard about more than 2 minutes of about say 5-6 or more tracks from Shock Value 2. I DID NOT record because I was asked not to, and I'm loyal. Anyways Tim made a beat on the video, it was crazy… Then he started writing (in his head) to it live. Went into the booth and started recording. It sounded hot. Then Tim came to the camera, and sat down to chat and then began to play the tracks I mentioned. So Tim was there sitting down bouncing and acting crazy to his own music. It was awesome. And from what I heard… yall not ready for it. I mentioned that what I was hearing is greater than the stuff on BP3, and he said "of course I'm not going to give Jay my best material". He wasn't joking. I don't know how much input J-Roc had on the tracks I heard. But oh my… they were hot. And the track Tim started on in the video, which he made pretty quickly was all Tim… and it was so hot. Wow…
– Venture from The Timbaland Buzz