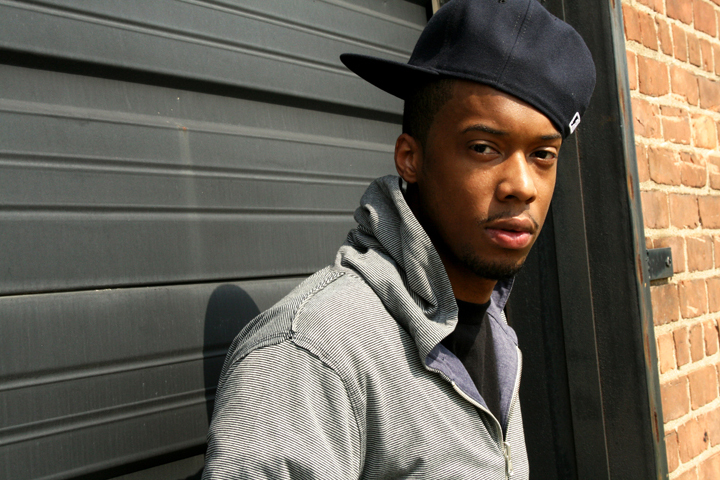 It is always a great pleasure when you get to interview one of your favorite artists. Some days ago, I had a sit down with producer-rapper from Detroit Black Milk who will be releasing his new LP Album of The Year on September 14th. He spoke candidly on his trademark style of production, sound on the new album, origins of his name, the status of Random Axe, producing Melanie Rutherford's album, the possibility of a collaboration with Eminem and of course his choice between Michael Jackson & Prince.
HHNM: Thank you so much for taking out your valuable time for us Black. Always wondered this, where did that name Black Milk come from?
Black Milk: Lol everyone always asks me that question. It came from me writing different words on paper and just putting the two together that looked good to me. I didn't know if it would stick, but I knew it would get people's attention.
HHNM: There are very few producers who can rap well too and you're right up there on that list. How will you describe your sound? It's definitely different than the usual we keep hearing these days.
Black Milk: My style is very Detroit. The most important element of my music is the feeling. Like a lot of Detroit artists, I like to use my vocal as an instrument, an extension of the production, as opposed to using it against the production.
HHNM: I notice that you really like to play around with a track either in the beginning of it or at the end and infuse some instrumental interludes every now & then. That's particularly the case on 'Popular Demand' and 'Tronic'. Sounds great but a listener has to play the album at least twice to really understand the concept. Do you make a deliberate effort to do that? I love it by the way.
Black Milk: I like to leave a special stamp on my larger bodies of work by attaching those rare "magical moments" to the beginning or ending of a song, and also in between tracks. They give the album or song a certain feel and force the listener to rewind. The influence for me to do that comes from listening to albums like Pete Rock's "Soul Survivor" or Dilla's interludes in between songs. They add replay value.
HHNM: Let's talk a little about the other projects that you are supposedly working on before we get to your own new solo effort. What's the status of Random Axe? Last time I heard, you had some data loss problems with the potential material.
Black Milk: First of all, the rumor about me losing the Random Axe album is a myth! Lol We only had three songs completed and only I lost one verse. Sean P came to Detroit last month and recorded the last of his verses. All that is left for me to do is flip some of the production and mix. The project will be released no later than the first quarter of 2011 on Duck Down.
HHNM: I remember you told me on Twitter that you're also producing the whole new Melanie Rutherford album 'Searching For Sanity'. When is that due?
Black Milk: We have about five songs recorded for Melanie's album. I had to take some time off from working on that album in order to complete Album of the Year. As I said before, now that Album of the Year is done, my next priority is wrapping up Random Axe. Once Random Axe is complete, Searching for Sanity is my top priority. I am really excited about this album. I've been wanting to work with a singer for a long time now, so this is a perfect next step for me. And it's only right that I work with Melanie since I've known her for some years now and she is one of the most talented singers out right now. Her voice needs to be heard.
HHNM: Now time to get some info on your new solo album. Will it be the same Black Milk trademark sound? A lot of sampling and live instruments?
Black Milk: Album of the Year is a mixture of my last two albums, Popular Demand and Tronic, meaning there will be a certain soulful, feel good sound to it combined with an experimental, live sound. Lyrically, it is my most thoughtful and honest work yet. People will see a more personal side of me. It is my favorite album of the three.
HHNM: There's a track called 'Deadly Medley' on the album featuring Royce Da 5'9" and Elzhi. Who came up with that name?
Black Milk: The name came from a lyric in Royce's verse.
HHNM: So you and Eminem both being from Detroit, when are we getting to hear a collaboration?
Black Milk: That's a very common question these days. Your guess is as good as mine. Hopefully sooner rather than later.
HHNM: Alright sir, I know you're a Prince fan but this is something we ask everyone we interview here at Hip Hop N More: Prince or Michael Jackson and why?
Black Milk: Prince. He embodies what every artist wishes they did – he can play any instrument, he has the most incredible voice ever, and he has a style and image that separates him from any other artist on the planet. He's a rock star.
Visit Black Milk's official site | On Twitter | Pre-order Album of The Year here.