President Trump has all the time in the world to pick fights with celebrities on Twitter. The latest one is the legendary Snoop Dogg.
It all started with Snoop Dogg's new controversial video 'Lavender', a remix of a track by BadBadNotGood and Kaytranada. In the video, Snoop Dogg is shooting a gun loaded with confetti at a clown-faced caricature of Trump. The video, which can be watched below, was supposed to be sort of criticism of police brutality and President Trump's recent policies.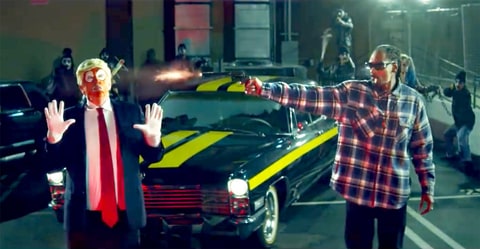 The video received adverse reaction from Florida senator Marco Rubio and Trump lawyer Michael Cohen. "Snoop shouldn't have done that," Rubio said Tuesday. "We've had presidents assassinated before in this country, so anything like that is something people should really careful about."
But today morning, Donald Trump himself decided to voice his opinion over the video, suggesting that Snoop Dogg should be arrested for pretending to shoot him in a music video.
Can you imagine what the outcry would be if @SnoopDogg, failing career and all, had aimed and fired the gun at President Obama? Jail time!

— Donald J. Trump (@realDonaldTrump) March 15, 2017