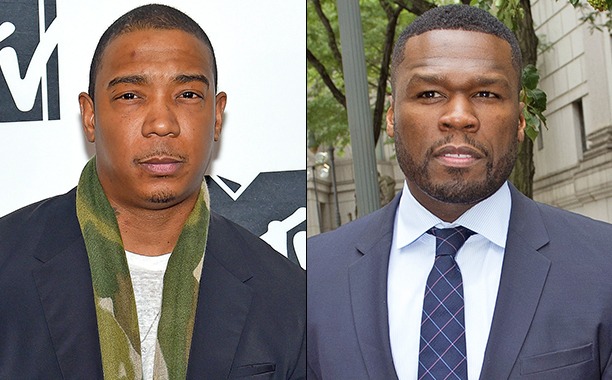 50 Cent had made up with a lot of folks since his infamous beefs of early and mid 2000s except for about two people — Rick Ross and Ja Rule. The G-Unit honcho, who is promoting his new film Den of Thieves around the country (in theaters today), still gets asked questions relating to Ja every now and then.
Yesterday, 50 was a guest on the Big Boy's Neighborhood show on Real 92.3 L.A. radio station along with his Den of Thieves co-stars O'Shea Jackson Jr. & Pablo Schreiber. When Big Boy asked 50 what will happen if he by chance crossed paths with Ja again, he said something to the effect that he "done put him to bed." Woah. You can watch a clip of that below where he also briefly narrated the story again about how they ended up being on the same plane a few years ago.
https://www.instagram.com/p/BeG8KMgnV2f/
As usual, Ja has responded to 50's shots on social media. Taking to Twitter, the fellow Queens rapper wrote: "Fun hip hop FACT: @50cent is P*SSY…" This isn't the first time their beef has been reignited. Even back in 2015 during height of Drake and Meek's beef, Ja and his old rival went back and forth on social media.
Fun hip hop FACT: @50cent is PUSSY…

— Ja Rule (@jarule) January 19, 2018
Yeah I do @50cent got beat up, stabbed and shot what do you remember??? 😩 https://t.co/NDq3fLoLtr

— Ja Rule (@jarule) January 19, 2018
Let's be clear I mind my business… but for some reason @50cent keeps my name in his mouth… I think he'd rather have my dick in his mouth lmao… #bitchassnigga #ticklebooty

— Ja Rule (@jarule) January 19, 2018
You can watch the full interview from Big Boy's Neighborhood below. 50 also dropped an interesting piece of information that Eminem had Relapse 2 album ready but shelved it after poor reaction to the original.