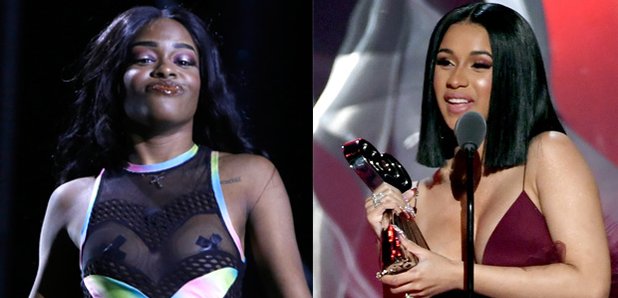 Cardi B has deleted her Instagram account after getting into a nasty feud with outspoken rapper Azealia Banks online.
--advertisement--
It all started with Azealia calling Cardi all sorts of things like "illiterate, untalented rat" and "caricature of a black woman" during her interview with The Breakfast Club on Power 105 yesterday (May 11). "Two years ago, the conversation surrounding black women's culture was really reaching an all-time high," Banks told the radio show's hosts Charlamagne Tha God, DJ Envy and Angela Yee, referring to Beyoncé's Lemonade.
"There was just this really, really, really intelligent conversation going on nationally and then everything just kind of changed and then it was like Cardi B." Watch the interview below.
Cardi B responded to Banks' offensive comments on Instagram which you can see below. But now she's taken the extreme step of completely deleting her account and going offline from the popular social media platform where she has been very active in the past.
Before Cardi took down her account, she had left the following statement for her fans. The Invasion of Privacy rapper has also made her Twitter account private.
This is not the first time these two female emcees are beefing. Back in September, Banks called Cardi a "poor man's Nicki Minaj," and also accused her of using a ghostwriter for her big hit 'Bodak Yellow'.