UPDATE 5: Post speaks on the incident; says he's thankful that he's safe.
UPDATE 4: Post Malone's plane has landed safely.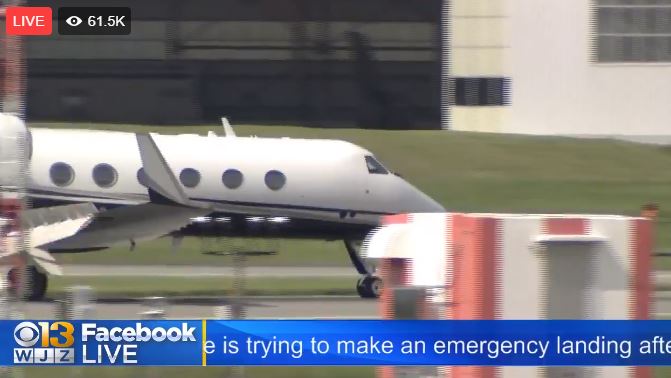 i landed guys. thank you for your prayers. can't believe how many people wished death on me on this website. fuck you. but not today

— Posty (@PostMalone) August 21, 2018
UPDATE 3: Watch the live stream of landing from New York:
https://www.facebook.com/CBSBaltimore/videos/228593517831705/
UPDATE 2: Post's plane has now been diverted to another airport in New York and is continuing to burn fuel. Below is its current flight path (as on 2.45 pm ET).
The aircraft has been circling over NJ and CT for the last several hours as they worked checklists and burned fuel. It is expected to make an emergency landing on the long runway of Stewart Airport near Newburgh, NY. #PostMalone #AvGeek 2/2

— NYCAviation (@NYCAviation) August 21, 2018
UPDATE: Watch a live stream from the runway where the plane is about to attempt the landing, below (Update: live stream has ended).
Previous story:
Post Malone's plane is currently attempting to make an emergency landing after two tires were blown during takeoff at Teterboro Airport in New Jersey.
Post Malone and his team left from Teterboro Airport in New Jersey Tuesday to head to London but the private plane's tires blew off during takeoff. In the air traffic audio obtained by TMZ, the pilot makes it clear that they've lost a tire, and asks for permission to circle above after revealing that there are 16 people on the plane.
The plane was expected to land at Teterboro around 12:20 p.m. but was diverted to Stewart International Airport in Orange County. The plane has spent more than an hour circling over Connecticut in order to burn fuel to make it lighter and avoid a fire. Stay tuned for the story and keep your prayers up.