It's official: Kid Cudi will release his new album Man on The Moon 3 on December 11th.
The release date is only 4 days away which is definitely a surprise as the announcement came without any kind of notice. Cudder had initially announced the third installment of his Man on The Moon album series in October with a video trailer and fans were obviously very excited.
https://t.co/vWnTzN1C7T pic.twitter.com/GSqY7wLeiU

— The Chosen One (@KidCudi) December 7, 2020
Along with the release date comes the official artwork as well as the tracklist for the 18-song album. Just like the previous two installments, Man on The Moon 3 is also spilt into 4 "acts" and features guest appearances from Pop Smoke, Skepta, Phoebe Bridgers and Trippie Redd. See the full tracklisting below.
On the back cover, it mentions that Cudi went back to work with the original team for the production this time around: Plain Pat, Mike Dean and Emile Haynie among others. According to the press release, Nabil-directed videos for 'She Knows This' and 'Heaven On Earth' are coming soon.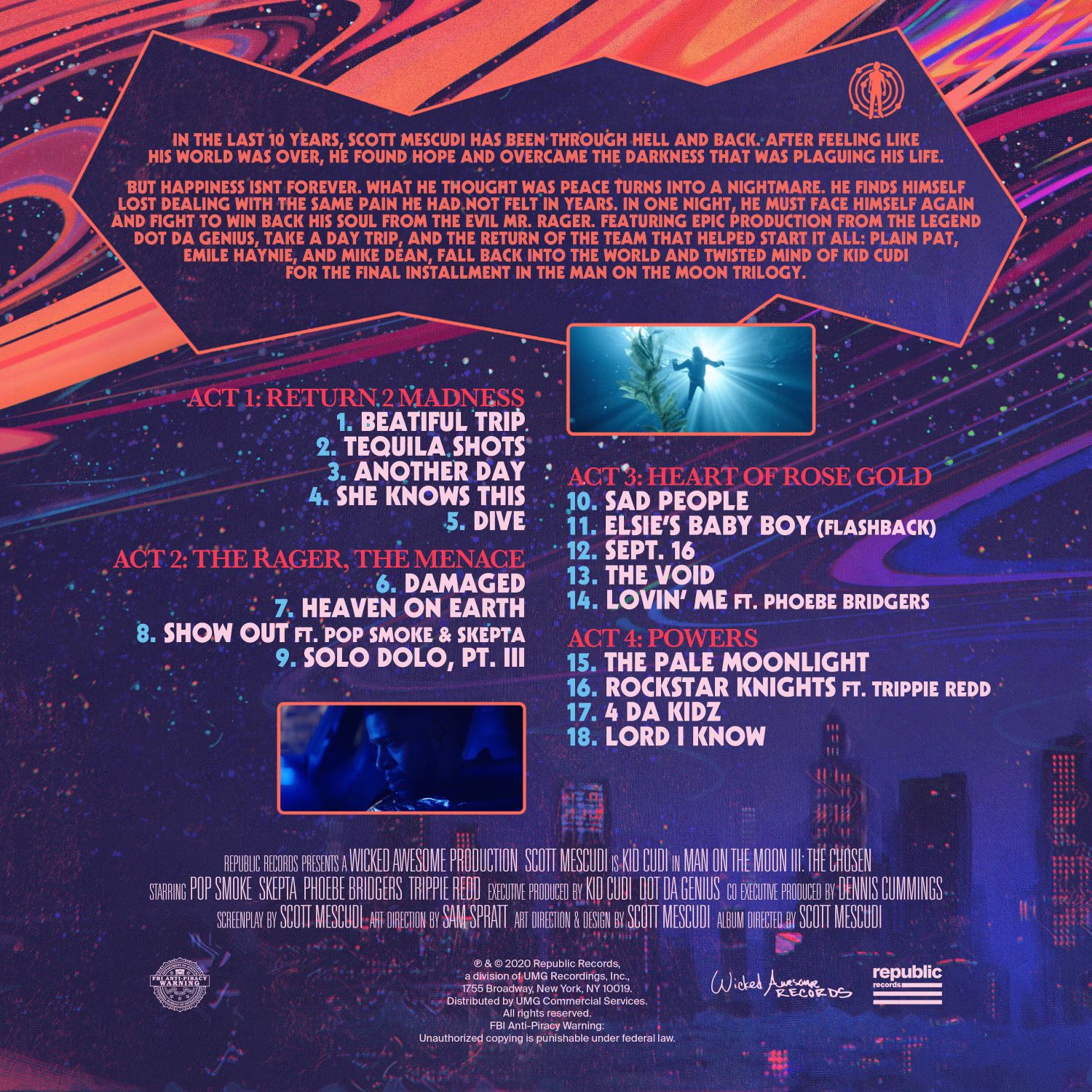 Tracklist:
1. Beautiful Trip
2. Tequila Shots
3. Another Day
4. She Knows This
5. Dive
6. Damaged
7. Heaven On Earth
8. Show Out Featuring Pop Smoke and Skepta
9. Solo Dolo, Pt. III
10. Sad People
11. Elsie's Baby Boy (flashback)
12. Sept. 16
13. The Void
14. Lovin' Me Featuring Phoebe Bridgers
15. The Pale Moonlight
16. Rockstar Knights Featuring Trippie Redd
17. 4 Da Kidz
18. Lord I Know
Watch the trailer for his "spotlight story" coming to YouTube: