YK Osiris has taken to social media to apologize for his recent behavior.
On Tuesday, June 13, a video surfaced of the singer forcefully kissing Sukihana which went viral on social media. The incident took place after the Crew League basketball tournament held in Atlanta. Sukihana was commentating on the game alongside Lil Duval, Funny Marco, and Buster Sher.
The clip shows YK Osiris standing behind the 31-year-old and laughing while massaging her shoulders as she seems visibly uncomfortable. The singer then proceeds to pull the rapper's head back and kiss her multiple times while Sukihana tries to evade. Her fellow commentators can be seen laughing it off. Watch it below.
How many time u gotta be curved to get the hint. Men be treating her a kind of way cause her music but that ain't even close to an excuse 😭 pic.twitter.com/f9v3rCDPUJ

— KodaJ (@kodaaa_j) June 13, 2023
Sukihana can be seen trying to stop him but that doesn't seem to send the signal to YK. He then walks off laughing. The incident has left many enraged and rightfully so.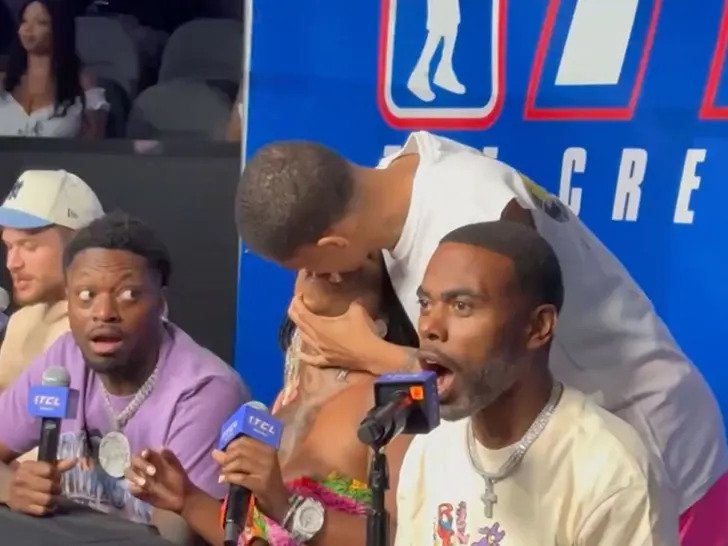 Sukihana tweeted that she was hurt by the incident and shortly after deleted her Twitter.
Sukihana says she's hurt and scared to stand up for herself following incident with Yk Osiris pic.twitter.com/HICjAxEoL7

— SAY CHEESE! 👄🧀 (@SaycheeseDGTL) June 14, 2023
YK has issued an apology on his Instagram, admitting that in an attempt to be playful, he violated Sukihana's boundaries. He continued saying he was "embarrassed by his behavior." Read the full note below.
View this post on Instagram