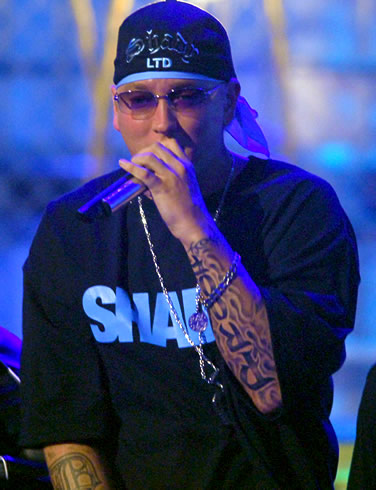 Rapper Eminem, who's been off the season for a while, is coming back with a vengeance this fall.

I'm told he will release two new albums come September. They are tentatively titled "Relapse" and "Relapse 2."

The first release should come after Labor Day, and the next one in later fall, maybe November.

A source working on the recordings told me, of course, that they were brilliant. "His poetry is like Edgar Allen Poe."
The source also said that Eminem's lyrics will "offend and insult some people." No kidding, when haven't they? On the other hand, Kim Mathers, his ex wife, is said not to be the focus of Eminem's bile. That's a good thing.
Talk of the new Eminem albums came at EMI Music's big Grammy after party at SLS Hote, thrown in conjunction with Stand Up For a Cure, the cancer charity. Coldplay's Chris Martin, Katy Perry, Nicole Kidman and Keith Urban, were just some of the celeb guests, as well as Sean Stewart (Rod's son), Barbara Orbison (Roy's widow), Donovan Leitch (the singer Donovan's popular son), and comedian Chris Tucker.
More from Grammy parties and backstage at the Staples Center this afternoon…