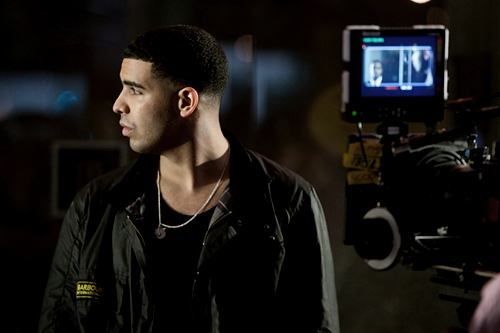 Billboard caught up with Drake to talk bout his knee surgery, his debut album Thank Me Later and of course, the first single 'Shut It Down' with The-Dream.
Here's how he describes the single which may not come out until January:
"(It's)an R&B song…It's sexy. It's slow, but there's an energy to it. I rap on it. Me and Dream both sing on it. It's cool." It also has a "message that's never really been explored by male singers. This song is sort of like an anthem for women, like pre-the club. It's like an anthem for you to be at your house with your girlfriends getting ready, what you listen to before you get there. It's a song for the non-famous woman to make her feel special and just to let you know that even though I'm up here and have the option to mingle wtih these 'upper-echelon' women, if you will, that sometimes I'd rather be with the girl from back home or a student or a girl that works at Wal-Mart. They don't have to be a star or rich or anything like that; that's kind of the gist of the song. It's an empowering song for all women."
Sounds very commercial but wow, I can imagine the frenzy when it drops.