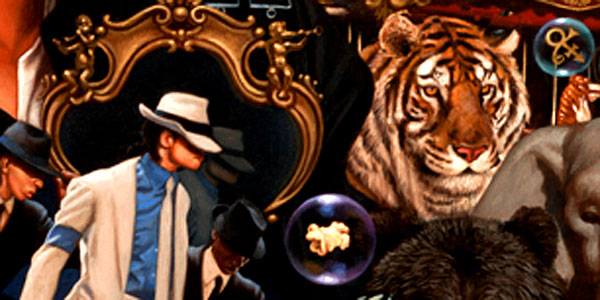 Yesterday, the new Michael Jackson album cover was revealed to the world by Sony Music on the official website. The Kadir Nelson painting takes fans on a fantasy ride through the greatest moments of the King of Pop's solo career. MTV was the first to decode and notice on the cover, a bubble containing Prince's signature male-female glyph.
We all know the history of MJ and Prince's relationship in the past. So does that mean Prince is somehow involved with the project? According to the label, Kadir's painting was created in 2009 and "takes us on a journey through some key moments and important people in Michael Jackson's life."
After learning about the symbol featured on the cover, Prince's fansite Drfunkenberry reached out to Prince's camp who stated: "No permission was granted. Sony Entertainment has removed the symbol."
In fact that is true as can be seen with the updated cover on Sony's site. Have a look at the  high resolution altered cover without the symbol after the cut. Interesting..
Previous: Michael Jackson – 'Breaking News' (Teaser)