Lil Wayne and Drake kicked off their highly anticipated joint tour last night at the Darien Lake Performance Arts Center in New York. Fans were able to decide who will go first via the just launched Street Figher-inspired Drake Vs Lil Wayne Tour app. Fans chose Weezy as he went through his various hits, kicking it off with 'Blunt Blowin', 'John' and 'Steady Mobbin'.
Drizzy answered back by opening his set with 'Draft Day', 'We Made It' and 'The Language'. The two even traded some light shots at each other like this one: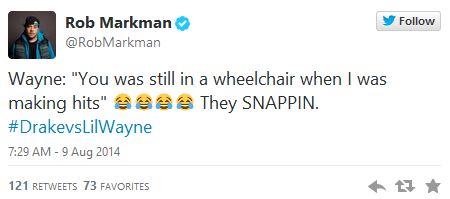 After the jump, watch the duo perform their just released single 'Grindin' for the first time live. Karla Moy has some nice photos of the show while MTV has a more detailed report.
video via WOR