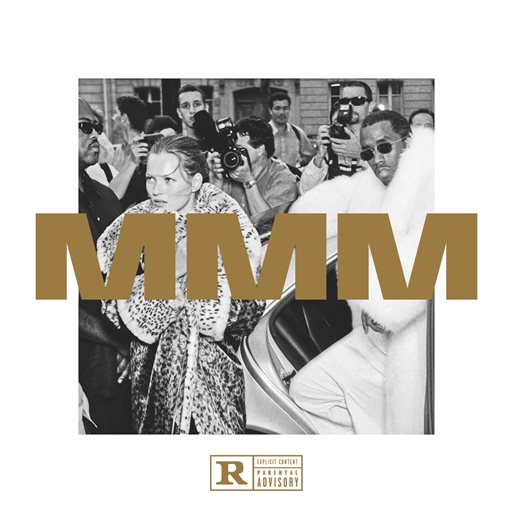 Diddy celebrated his 46th birthday tonight with a release party and session for his new project MMM (watch a trailer here). Not sure if we can call it an "album" because it is supposedly the teaser to his next proper LP No Way Out 2.
Various celebrities including French Montana and Swizz Beatz were present to listen to the album which will be out at 7 am today, November 4th as a free download. You can peep the cover in the background of the Swizz-Puff photo above. Take a look at the track list below (via Vanessa).
UPDATE: Above is the official artwork which features a 1999 photo, taken by Annie Leibovitz, of him in Paris with Kate Moss. Lil Kim, Future, Wiz Khalifa, Jadakiss, French Montana, Styles P, Pusha T, Big Sean, Travis Scott, Ty Dolla Sign and King Los are featured on the project but track list with guests hasn't been revealed yet.
MMM Track List:
1. Facts
2. Harlem (Feat. Gizzle)
3. Help Me (Feat. Sevyn)
4. Everyday (Feat. Styles P, Jadakiss & Pusha T)
5. Auction (Feat. Styles P, King Los & Lil Kim)
6. MMM (Feat. King Los & Future)
7. All Or Nothing (Feat. Wiz Khalifa & French Montana)
8. Workin  (Feat. Big Sean & Travi$ Scott)
9. You Could Be My Lover (Feat. Ty Dolla $ign & Gizzle)
10. Uptown (Feat. Brucie B)
11. Money Ain't A Problem (Feat. French Montana)
12. Blow A Check (Feat. French Montana & Zoey Dollaz)
UPDATE 2: Puffy is on Breakfast Club live right now where he is playing new songs from the project. We will post the ones we are able to rip. Enjoy!
UPDATE 3: You can now stream or download (clean version of) the full project below.
UPDATE 4: The dirty version is now available.