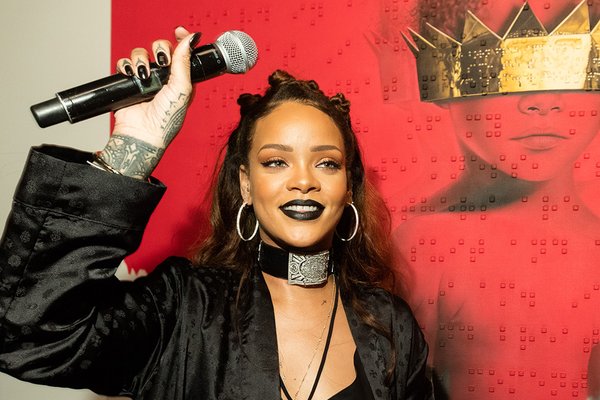 The rollout for Rihanna's latest album ANTI was a messy one and created a lot of confusion among fans.
But the album is finally out and getting good reactions from listeners. The album has been downloaded more than 1.4 million times in the 15 hours since it was officially released exclusively on TIDAL, and the RIAA has now certified it Platinum.
Rihanna offered a free code to download the album through TIDAL in partnership with Samsung which was redeemed within 14 hours, according to the streaming service. This was after the album went live on TIDAL a few hours before it was supposed to and had to be taken down due to a "system error". A day later, it was made available on iTunes with 3 bonus songs as the "deluxe version".
Although the RIAA is recognizing ANTI's numbers as platinum status, Billboard and Nielsen are not counting the "sales" on TIDAL towards their totals, TIDAL has confirmed. This means that Billboard's numbers will be different from that of RIAA when it charts this week.
Grace Kim, TIDAL's director of Marketing says:
"There were conversations [with Billboard] early on when this promotion and partnership started, but ultimately it became about giving music directly to the fans. While everyone would've loved to have it count, the thing that we're focused on here is that it's No. 1. This is the new model. The new model is about how many fans are we getting the music to," Kim told SPIN. "Soon enough everyone else with have to come along for the ride. We believe this is just the beginning of how we market albums, how we distribute music to fans, how fans consume music. It's just a different way of thinking."
It seems like this is the future model of the industry and Billboard would have to soon find a way of dealing with such situations to maintain consistency.
UPDATE: Tidal has issued a clarification on its earlier statement. They are now blaming the "system error" on Universal Music Group which is the distributor for Rihanna's ANTI through Roc Nation. "The error was not something TIDAL caused," said Kim.
The spokesperson has also clarified that Billboard and Nielsen will in fact be counting the sales which are about 400k though TIDAL but won't take the sales through Samsung/Rihanna download code gift to fans into consideration: "Billboard and Nielsen are counting ANTI's sales on TIDAL towards their totals, [but] they aren't counting the Samsung/Rihanna download code gift to fans. The 400k+ sales of ANTI via TIDAL will be counted by Billboard."