Well, Kanye has been in the news all week with his tweets showing love for Donald Trump and much more. His friends John Legend and Chance The Rapper have been caught in the crossfire as well.
Earlier today (Friday), Kanye promised that he will drop a new song called 'Lift Yourself' which ended up being just a troll. But then came the big surprise. Kanye has now debuted a real song called 'Ye vs. The People' featuring T.I. where Tip is playing the "people" part. The two rap veterans go back and forth over some conscious stuff where Kanye is trying to prove a point.
"I mean I had stayed in my closet about a year and a half / Then one day I was like, "F*ck it, I'ma do me" / I was in the sunken place and then I found the new me / Not worried 'bout some image that I gotta keep up," Kanye raps on the song that debuted on L.A.'s Power 106 station. "Lot of people agree with me, but they're too scared to speak up," the G.O.O.D. Music boss continues over a sampled beat.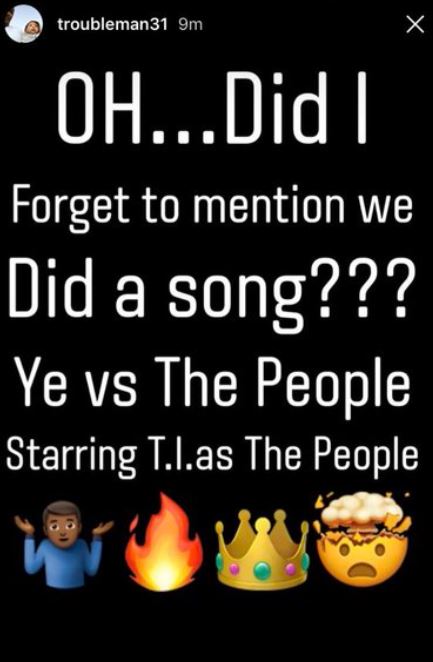 The track is the first taste off his forthcoming new album dropping June 1st. Are you feeling this?
UPDATE: The CDQ version of the song is now out on all platforms!