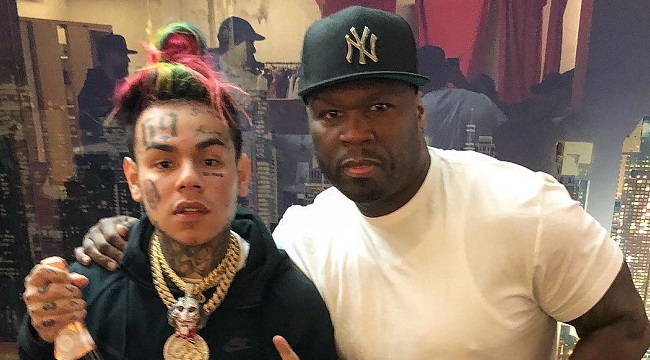 A lot of music fans call Tekashi 6ix9ine the modern version of 50 cent as far as trolling goes so it's no surprise that the two seem to have established a good relationship in recent times.
Now it looks like 50 and 6ix9ine will be collaborating on music very soon too. It has been revealed that the two will be releasing a new song called 'Get The Strap' alongside Uncle Murda which will debut during episode 8 of current season (Fifth) of 50's hit TV show POWER. That particular episode is set to air on August 19th. The information was shared by Murda's close friend Blanco.
https://www.instagram.com/p/BmEMquGBeUG/
50 and 6ix9ine partied together at the Hamptons too last night (Friday) in promotion of the G-Unit boss' new champagne Le Chemin Du Roi. "I'm telling you the kids love the young boy. He is working on his self, we all have things we should work on. If you don't like music make something better. Util then shut the f*ck up get the strap," 50 wrote in the caption.
https://www.instagram.com/p/BmEGHO7noLY/