UPDATE: MGK comes through with a music video. Watch it below.
Machine Gun Kelly has responded to Eminem with a diss song titled 'Rap Devil'.
In case you are still catching up, MGK is one of the artists Em dissed on his latest album Kamikaze. It was a result of Machine Gun Kelly commenting on Eminem's daughter Hailie a few years ago which he definitely took offence to as she was just 16 years old at the time. Eminem rapped on the song 'Not Alike':
"But next time you don't gotta use Tech N9ne
If you wanna come at me with a sub-machine gun
And I'm talkin' to you, but you already know who the fuck you are, Kelly
I don't use sublims and sure as fuck don't sneak-diss
But keep commentin' on my daughter Hailie"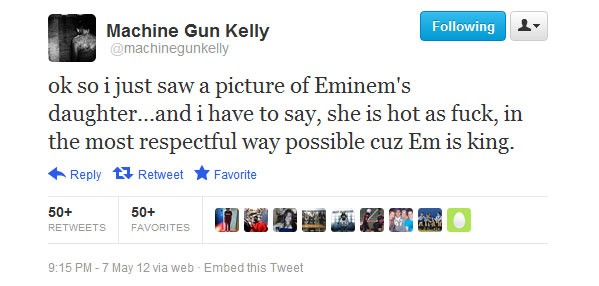 MGK has now dropped a reply where he's going straight at Shady, accusing him of being "sober & bored" and trying to sabotage his career by calling Diddy, among other things. Listen to it below.
"Let's talk about the fact you actually blackballed a rapper that's twice as young as you
Let's call Sway, ask why I can't go on Shade 45 because of you
Let's ask Interscope how you had Paul Rosenberg trying to shelf me
Still can't cover up the fact your last four albums is as bad as your selfie"