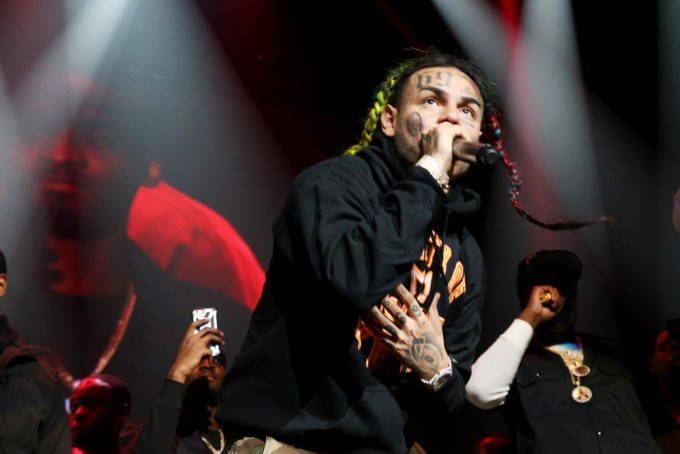 UPDATE 2 (Nov. 20): Tekashi's bail hearing has been pushed to Wednesday as the judge was unavailable. He has been placed in gen pop at Brooklyn's Metropolitan Detention Center. The prosecutor told the judge on Tuesday that they took Tekashi in after learning he was planning a trip to a Connecticut casino. And since Tekashi's life was in danger, they feared an attempt on his life could put innocent people in jeopardy.
UPDATE: According to the 17-page indictment, Tekashi is facing 6 counts, the most serious of which is discharging a firearm while committing a crime. It carries a possible life sentence, and a mandatory minimum of 25 years in prison.
According to the prosecutors, back in April, Tekashi waited in a car outside an NYC office while his manager and other associates robbed some of Tekashi's rivals. A photo of a recovered AR-15 style rifle has also been released, which was found in his Brooklyn home.
Previous Story:
Tekashi 6ix9ine continues to have trouble with the law. The rapper was reportedly taken into custody along with his two affiliates by Federal Authorities on Sunday night.
The exact charges for the arrest are not confirmed at this point but his good friend DJ Akademiks reports that he was charged under RICO (Racketeer Influenced and Corrupt Organizations Act). The strict law deals with persons who engage in organized crime. The three who have been arrested along with Tekashi are apparently Shotty, affiliate Crippy and another unknown person.
Crippy is the man who got shot a few weeks ago during an altercation with Tekashi's record label head while Shotty is his ex-manager. All 4 men are facing racketeering and firearms charges. The investigation was a joint effort by ATF, NYPD and Homeland Security, reports TMZ.
BREAKING: 6ix9ine arrested and taken in custody by Federal Authorities on unknown charges. At least two of his affliates have also been taken in custody as well. More info soon.

— DJ Akademiks (@Akademiks) November 19, 2018
I'm hearing RICO and Racketeering charged … don't quote me on that. Won't be able to tell exactly what he is being charged for until indictments are unsealed or until feds start confirming what's up. More info to come the morning.

— DJ Akademiks (@Akademiks) November 19, 2018
Last week, Federal agents arrested Anthony Jamel Ellison on a federal warrant for allegedly trying to kidnap and pistol whip 6ix9ine back in July. Ellison had been part of Tekashi's management crew before 6ix9ine's career took off. On Sunday, the rapper revealed the tracklist to his upcoming album Dummy Boy featuring appearances from Kanye West, Nicki Minaj, Lil Baby and more.