UPDATE: King Von's PR team and his label, EMPIRE have issued statements on his death.
"King Von, a rising rapper known for his visceral storytelling, passed away in Atlanta on November 6th. Born and raised in Chicago's O'Block neighborhood, Dayvon Bennett emerged from difficult circumstances to become one music's most promising stars. The 26-year-old artist left us just as the world was beginning to grasp the depths of his talents. Last week, Von shared his debut album, Welcome To O'Block, offering a cinematic and vivid account of his origin story, providing an inside perspective on neighborhood life and the trauma wrought by the criminal justice system.
King Von was a luminary — a natural storyteller, an artist on the verge of superstardom who had so much more to give the world. He overcame myriad unjust circumstances yet remained steadfastly dedicated to giving back to the community that raised him, O'Block. He was a devoted father, a deeply loyal friend, and a man who took care of his people before himself. We are heartbroken for his family, his friends, his team, and his fans. Long live King Von."
– Audible Treats
EMPIRE issued the following statement: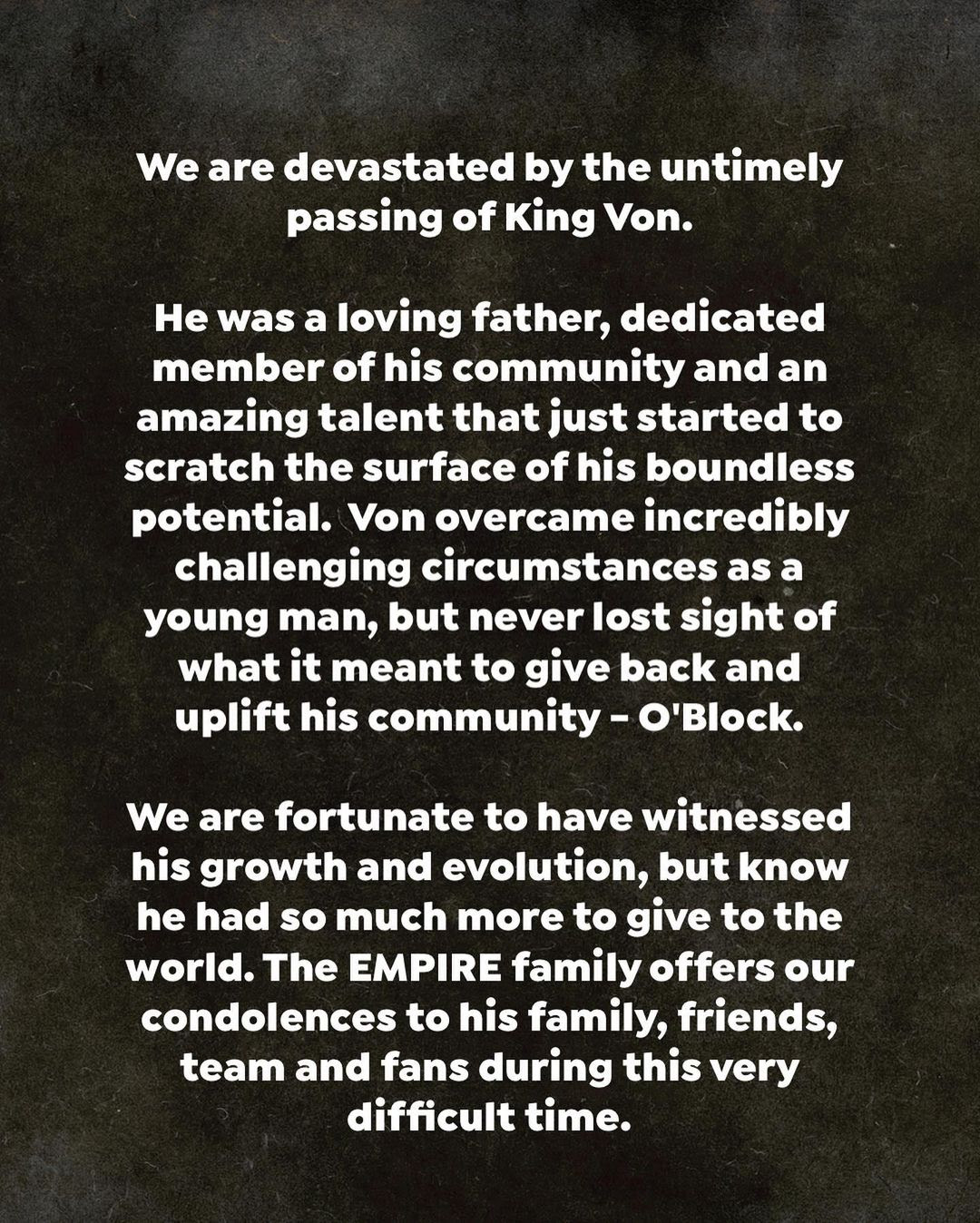 Previous story:
Chicago rapper King Von has been shot and killed in Atlanta.
The shooting reportedly happened during an altercation with Quando Rondo's entourage outside of Monaco Hookah Lounge off Trinity Avenue on Friday morning. Two large groups of people got into a fight that escalated and resulted in gunfire exchange.
Atlanta Journal-Constitution reports that two off-duty police officers were working security at the club. According to Atlanta police, two people were killed by the gunfire and several others were injured, including one person who was hit by a vehicle when the crowd scattered outside the venue.
Chicago PD confirmed King Von was shot by Atlanta police killing 2 of his entourage, Chicago PD has warned officers to travel in certain areas of the city in cars of 2 for safety. pic.twitter.com/4wdnj7zQzQ

— SadBoizClub (@SadBoizClubUSA) November 6, 2020
King Von's name started to circulate on social media on Friday morning but wasn't confirmed. However, the Chicago PD has now revealed that the rapper was indeed shot and killed. "That physical altercation escalated into an exchange of gunfire with those groups," Atlanta police Deputy Chief Timothy Peek said. "Two police officers who were working at that particular club, or lounge, noticed the altercation and engaged some of the people involved. There was an exchange of gunfire with police as well."
King Von's was DJ on live crying after confirming he passed away pic.twitter.com/QrPP3sDMUD

— Complex Ambition (@CmplxAmbition) November 6, 2020
Von's DJ and producer ChopSquad also went live on Instagram to confirm the news as can be seen from the video above. He also posted about the rapper's death.
"My heart can't take this. No bro. Why you. Why bro. Please just FaceTime me bro. Why they had to take you. Ima see you again this shit ain't over. It's far from over. We still just getting started. RIP my Bestfriend. The only n*gga to listen to me word for word from day 1," he wrote. "We sat on FaceTime for hours making songs together. Every bar had a meaning snd every song was a part of our soul. Every moment meant something and to grow wit you made me feel like I was a real producer. I love you bro @kingvonfrmdao" he continued.
King Von's debut album, Welcome To O'Block was released just last Friday via Lil Durk's OTF label. It featured guest appearances from Moneybagg Yo, Dreezy, Durk, Fivio Foreign and more. He was supposed to release a music video on Friday at noon ET (out of respect, we are not revealing which one).
King Von was supposed to drop a new music video at 12 pm ET ☹️ pic.twitter.com/irhmGCKMYy

— HipHop-N-More (@HipHopNMore) November 6, 2020
We are sending our prayers to King Von's family and friends.