Vanessa Bryant has finally spoken once and for all about the controversial raps from Meek Mill where he referenced Kobe Bryant.
The song in question, titled 'Don't Worry (RIP Kobe)' is reportedly a collaboration with Lil Baby. Meek raps on the verse: "Yeah, and if I ever lack, I'm goin' out with my chopper, it be another Kobe."
The lyric is a reference to the basketball star's death last year. Bryant, his daughter Gianna, and seven other people were killed in a helicopter crash in Calabasas, California, on Jan. 26, 2020. It received a lot of backlash online for obvious reasons.
After the initial criticism from fans on the lyrics, Meek defended himself on social media, saying "internet antics cannot stop me."
somebody promo a narrative and y'all follow it…. y'all internet antics cannot stop me ….shit like zombie land or something! Lol

— Meek Mill (@MeekMill) February 18, 2021
They paying to influence y'all now … its almost like mind control "wake up" 🙃

— Meek Mill (@MeekMill) February 18, 2021
Vanessa broke her silence today on Instagram and called the lyric "insensitive" and "disrespectful."
"Dear Meek Mill, I find this line to be extremely insensitive and disrespectful. Period. I am not familiar with any of your music, but I believe you can do better than this," she wrote in her note. If you are a fan, fine, there's a bette way to show your admiration for my husband. This lacks respect and tact."
See screenshot of her statement below.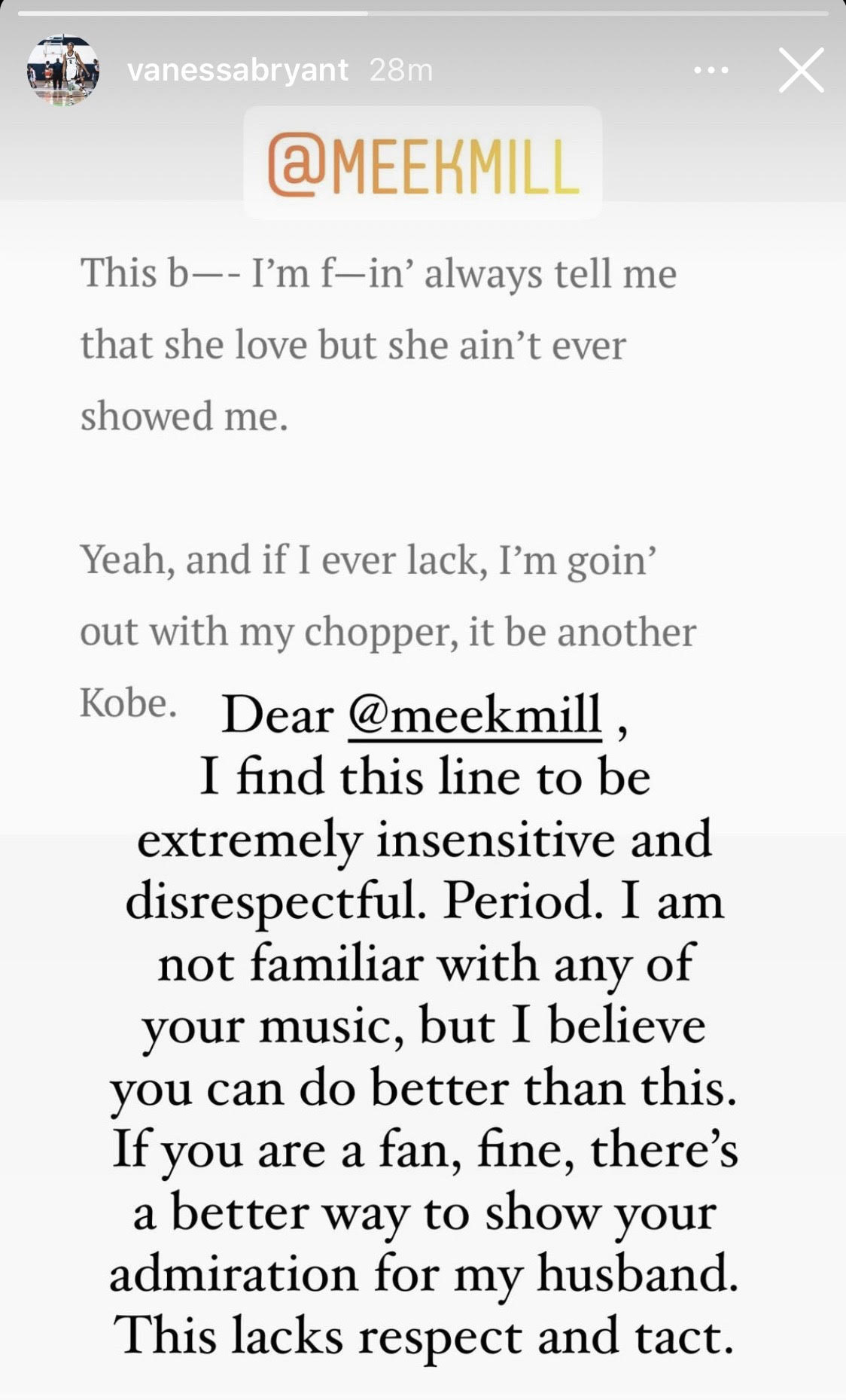 This story is developing.