UPDATE: More details have surfaced regarding Trouble's death. Atlanta-area sheriff's officials said the rapper was visiting a woman when a man in a "domestic situation" with her broke in and opened fire.
Trouble died in a 3:20 a.m. home invasion at Lake St. James Apartments in Conyers which is about 25 miles east of Atlanta. A suspect, identified as Jamichael Jones, 33, of Atlanta, is being sought on an arrest warrant based on allegations of murder, home invasion and aggravated assault. He allegedly breached the house and opened fire, killing Trouble on the scene.
County Sheriff's spokesperson Jedidia Canty said it appears the suspect and the rapper did not know each other. The woman, who was not identified by officials, was not described as injured in the incident.
Previous story:
Atlanta rapper Trouble has reportedly died.
The news of his passing began to surface early Sunday morning through many unconfirmed sources. The report from various Atlanta based blogs say he was shot and killed but that has yet to be confirmed. The rapper's ex-girlfriend, model Alexis Sky, confirmed on Twitter that he has passed away.
Its toooooooo many 12 of for me tonight IM GOIN HOME‼️
Yall move smoove outchea ✌🏾

— Trouble (@TroubleDTE) June 4, 2022
"I'm so sorry this happen to you Skoob you didn't deserve this I'm praying for your kids and family," Alexis wrote in a heartfelt tweet. See below.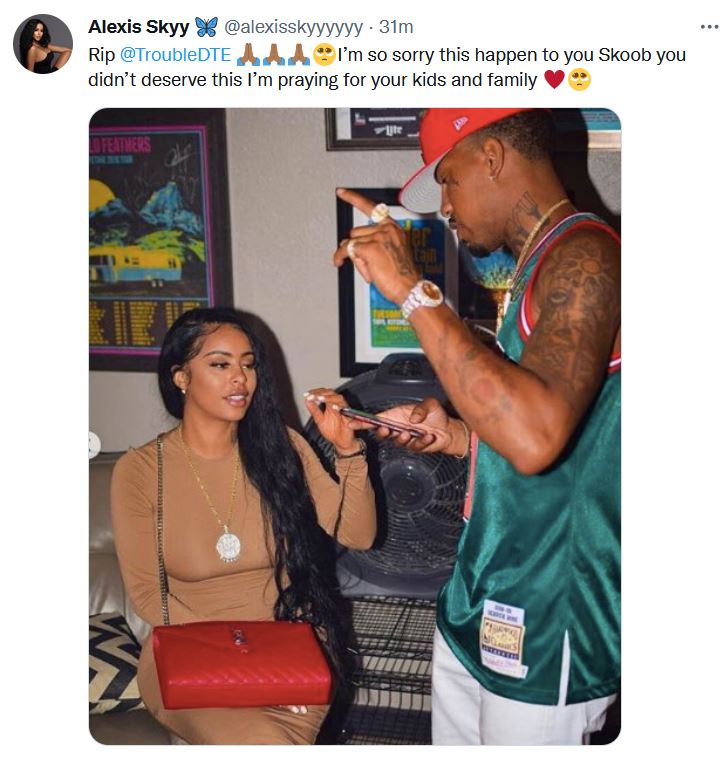 Trouble's frequent collaborator, Young Scooter has also confirmed in Instagram stories that Trouble has passed away.
Trouble was signed to Duct Tape Entertainment label and had many successful street records including the Drake featured and Mike WiLL Made it-produced 'Bring it Back'. He also had other popular songs with The Weeknd, Migos, 2 Chainz, Jeezy, City Girls and others.
RIP Trouble.