Megan Thee Stallion is gracing the latest cover of Rollingstone magazine and in the cover story, she's speaking about the incident where Tory Lanez allegedly shot at her, how she's coping with with it, love life, new album and more.
Megan tells the publication she wants Tory to be imprisoned after he faces trial over the July, 2020 incident in September. Megan said she "never put my hands" on Lanez and doesn't understand why he allegedly shot her after the two and a former friend of hers got in an argument in a car. "People argue every day," she continued.
"In some kind of way I became the villain," Megan said. "I wonder if it's because of the way I look. Is it because I'm not light enough? Is it that I'm not white enough? Am I not the shape? The height? Because I'm not petite? Do I not seem like I'm worth being treated like a woman?"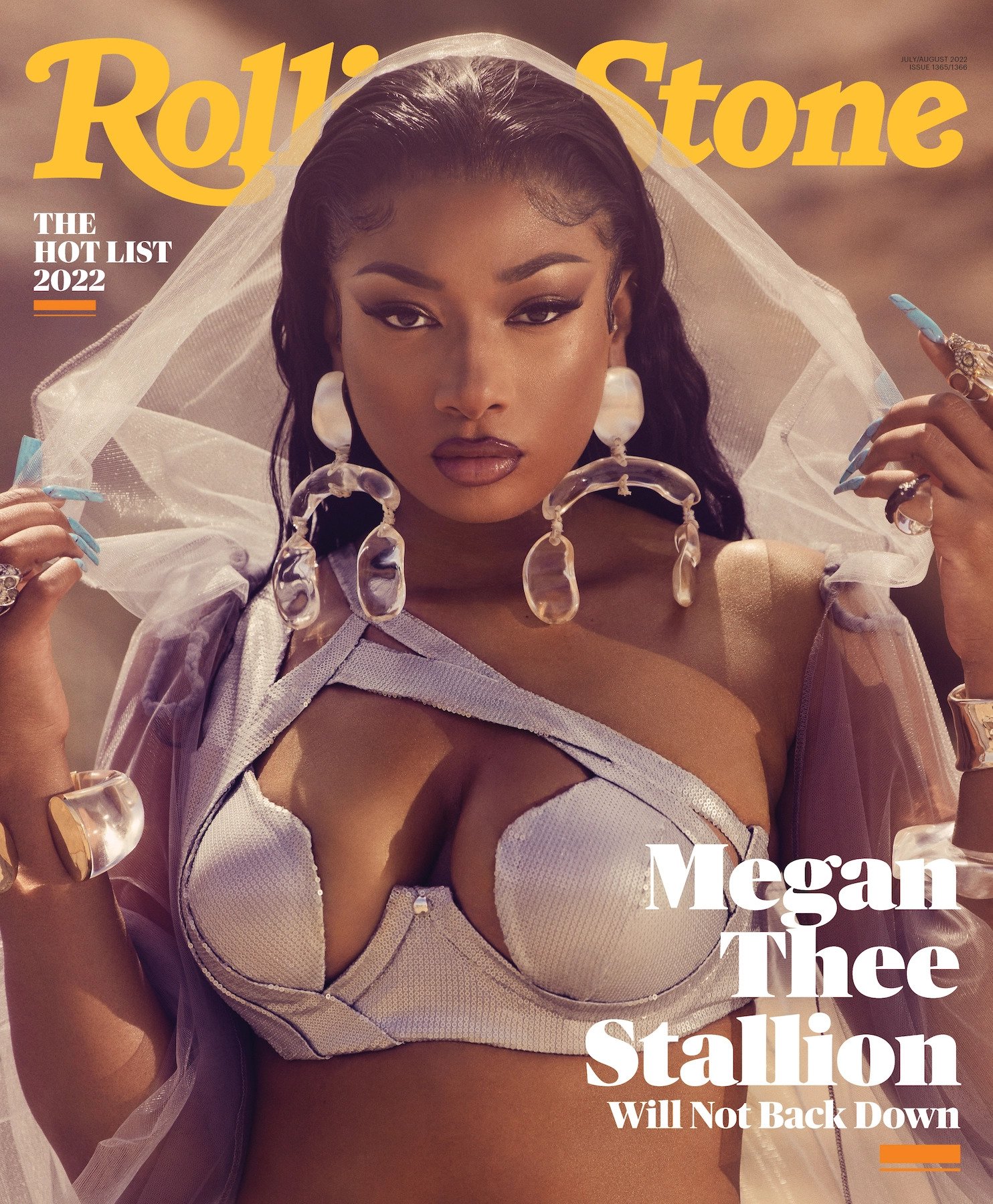 The Houston rapper also isn't happy how some bloggers and media personalities have been able to spread in accurate information about the ongoing legal matter online without any consequences.
As Rollingstone notes: That same day, Lanez bolstered false claims by media personality DJ Akademiks, who has been lambasted for sensationalizing violent conflicts in rap and for his recurring, hateful, misogynistic tirades against Megan. In February, Akademiks tweeted that court proceedings revealed that Lanez's DNA wasn't found on the gun recovered at the scene of the shooting (in court, Lanez's attorney claimed that a DNA swab of the gun was "inconclusive," and that "there were four contributors") and that he had seen unreleased evidence that seemingly absolved Lanez of the crime (release of which, if by Lanez, would have been a violation of a court order). Lanez's attorney argued that Lanez did not provide Akademiks with any such evidence, but because he egged on Akademiks' claims on Twitter while addressing Megan, Lanez was briefly taken into custody for violating court orders prohibiting him from contacting or harassing Megan, or discussing any discovery in the case with outside parties.
Megan says she plans to "tackle" it and isn't impressed by how people can get away with spreading false information just like that. "I think it's so crazy that people are able to get online or publish anything that is not a 100 percent fact. That really is messing with my life. How are you able to do it and get away with it?" she says.
"I just learned that you really can't get away with that, and I'm going to get you. Right now I'm just getting all my stuff together because I'm seeing it. Yeah, you keep doing that. I'm going to spin the block on you," she continued, hinting that she plans to take some sort of action. Perhaps she's inspired by Cardi B's win in court against YouTuber Taska K?
In rest of the interview, Megan revealed having a guest appearance from Future on a song called 'Pressurelicious' from her forthcoming album. She calls him one of his favorite rappers.
"He just so f**king ratchet!" she says about the Atlanta superstar. "He is unapologetically himself. I appreciate that about anybody who gets up and has to do anything in the public eye. Anybody who has to read about their life online every day and deal with so many energies and can put it out into their music and do it gracefully, I feel like you deserve your flowers."