WORST SONGS
All of the 'U.O.E.N.O.' Remixes
After hearing the original version of Rocko's 'U.O.E.N.O.' and then finding out that several remixes were to follow, it was evident that a good thing was going to be ruined. Aside from TDE, we couldn't bare to listen to any of these remixes more than once.
The beat started to get annoying, the verses all sounded similar, and it hinted that originality had departed the building. Artists, let's not do this to whatever the 2014 version of 'U.O.E.N.O.' ends up being. Thanks in advance!
DJ Khaled – 'I Feel Like Pac, I Feel Like Biggie' (Feat. Rick Ross, Meek Mill, T.I., Diddy, & Swizz Beatz)
Khaled, you really outdid yourself here. Honoring the greats Tupac Shakur and Biggie Smalls is a wonderful thing to do in 2013, and we know you didn't mean any disrespect by the titling the track this way. But unfortunately my man, you inadvertently did.
To exclaim that you 'feel like Pac, and feel like Biggie' is confusing and irrational. On top of that, the song itself was below average, there's too many people on it, and it's annoying trying to listen to something that you simply don't believe.
Big Sean – '10 2 10′
Big Sean's album Hall Of Fame was quite disappointing and tracks like '10 2 10′ are the reasons why. The hook is trash. The verses are lazy. The beat is annoying. And it's representative of the album that came with it. Not good Sean, not good.
Rick Ross – 'No Games' (Feat. Future)
After the initial hype died down, we realized how bad Ross' 'No Games' featuring Future really is. The choppy and loud beat isn't very pleasing to the ears — you can hardly understand Future on the hook, and Ross is trying to adopt Meek's style of yelling on the mic. Energetic? Sure. Dope? Not at all.
Tyler, The Creator – 'IFHY' (Feat. Pharrell)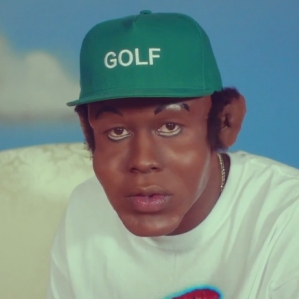 There's no question that Tyler, The Creator is one of the most creative and original figures in Hip-Hop today. His awkward-sounding 'IFHY' is not an example of that truth, however. The lyrics are tolerable, but they progressively get creepier and creepier as the song goes on. The beat is scattered all over the place and it feels more like an experiment, rather than a single for an overrated Wolf album. Sorry Tyler, we can't mess with this one.