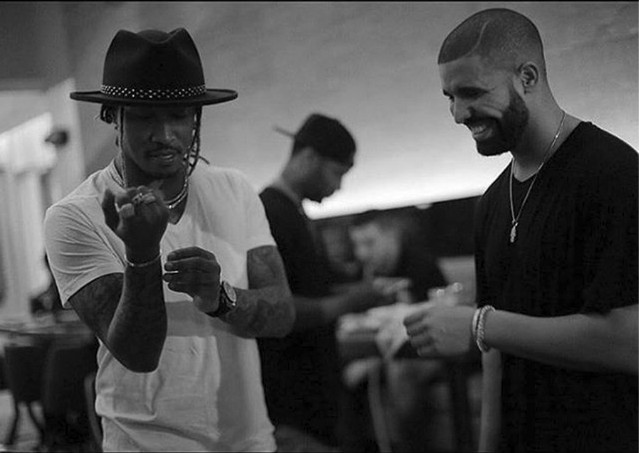 Looks like Drake and Future have some more music together on the way.
Future took to Snapchat early in the morning today (March 2nd) and previewed a never heard before song, a collaboration with Drake. The ATL crooner, who contributes to DJ Khaled's new single 'Top Off' alongside Jay-Z & Beyonce, name drops Kylie Jenner in his raps. "Kylie Jenner is a side-piece, I got 20 motherf*cking Kylies, I got 20 damn Kylies," he can be heard rapping over the trap beat.
Drake comes on shortly after on the same instrumental, rapping: "I got 20 damn Kendalls, young slim baddies and they're in Vogue, yeah, I got 20 f*cking Gigis." Drizzy was rumored to have dated Gigi Hadid's sister, Bella last year. Listen below. There is no word yet on where this song will live. The duo are reportedly prepping the release of sequel to their 2015 collaborative project What a Time to Be Alive.