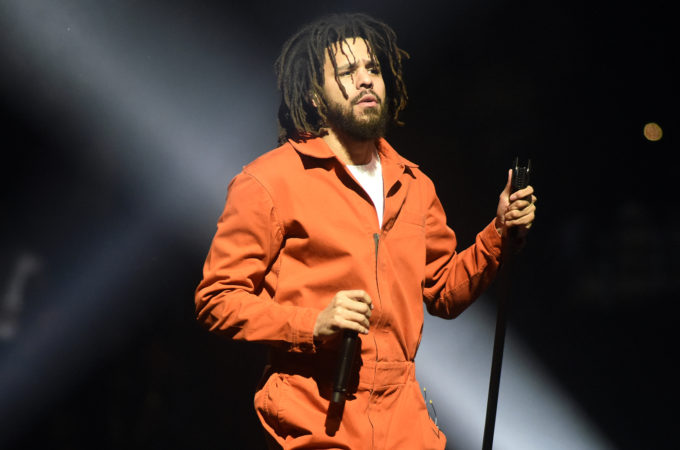 J. Cole doesn't do too many interviews. In fact, his latest one with VULTURE the other day was his first detailed interview in about three years.
But Cole took some time out and personally answered several questions for fans on Twitter earlier today. They ranged from his favorites songs on the new album KOD, the inspiration behind it, self producing the entire album and much more.
One big revelation he made was that he's working on his next album titled The Fall Off. Many fans guessed that's the case after hearing the last song on KOD called, '1985 (Intro To "The Fall Off)' and now they have heard the news from the horse's mouth. After a fan asked Cole about the details, he simply replied "workin on it."
In addition to the above, Cole also revealed that a project on his alter ego kiLL edward is in the works as well. "helping kiLL edward with his album," he said jokingly. Apart from this, fans can also look forward to a deluxe edition of KOD sometime in the future.
Workin on it. https://t.co/uLBD8evCpe

— J. Cole (@JColeNC) April 26, 2018
Was working on the fall off. And helping kiLL edward with his album. @killhisways but he don't tweet a lot. https://t.co/L4hI1Bqwdp

— J. Cole (@JColeNC) April 26, 2018
KOD deluxe will be album in its original 2 week form. Plus couple extra scenes that didn't make final cut. https://t.co/ruT2p28ovl

— J. Cole (@JColeNC) April 26, 2018
KOD deluxe will be album in its original 2 week form. Plus couple extra scenes that didn't make final cut. https://t.co/ruT2p28ovl

— J. Cole (@JColeNC) April 26, 2018
The rapper said that 'Window Pain', 'Brackets' and 'The Cut Off' were his favorite tracks on the album so far. "Check back with me it will change," he wrote. He signed off by recognizing the fact that it's been a heavy week for Hip-Hop fans. "You had a traumatic week already I don't wanna f*ck your timeline up no worse than it is."
Y'all let me know when I'm doin too much. This social media shit is a drug for real, and this is a binge for me. You had a traumatic week already I don't wanna fuck your timeline up no worse than it is.

— J. Cole (@JColeNC) April 26, 2018