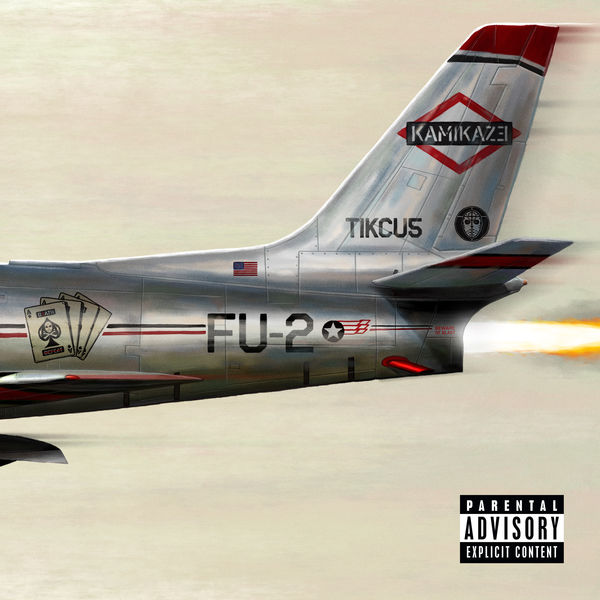 Eminem has surprised everybody tonight (Thursday) with the release of his new album Kamikaze which has guest appearances from Joyner Lucas, Royce 5'9″ and Jessie Reyez.
Eminem sounds refreshed on the album, addressing his critics and taking random shots at people, a lot of times for no reason at all. The album also features the title track from the upcoming marvel film Venom. We now have the production credits for the album which includes contributions from Mike Will Made-It, Boi-1da, Ronny J, Tay Keith, S1 and more. Eminem himself is handling bulk of the production on Kamikaze while Kendrick Lamar gets a "composer" credit on track #2 'Greatest'.
Take a look at the full list of producers on the album below. The album is executive produced by Eminem and Dr. Dre as usual.
1. The Ringer
Produced by Illadaproducer, Ronny J, Eminem
2. Greatest
Produced by Mike Will Made-It, Jeremy Miller
3. Lucky You feat. Joyner Lucas
Produced by Boi-1da, Jahaan Sweet, Illadaproducer, Eminem
4. Paul (Skit)
Produced by Eminem
5. Normal
Produced by Illadaproducer, S1, Lonestarrmuzik, Swish Allnet
6. Em Calls Paul (Skit)
Produced by Eminem
7. Stepping Stone
Produced by Eminem, Luis Resto
8. Not Alike feat. Royce 5'9″
Produced by Tay Keith, Ronny J, Eminem
9. Kamikaze
Produced by Mike Will Made-It, Eminem
10. Fall
Produced by Tim Suby, Eminem
11. Nice Guy feat. Jessie Reyez
Produced by Fred Ball, S1, Eminem
12. Good Guy feat. Jessie Reyez
Produced by Illadaproducer, Eminem