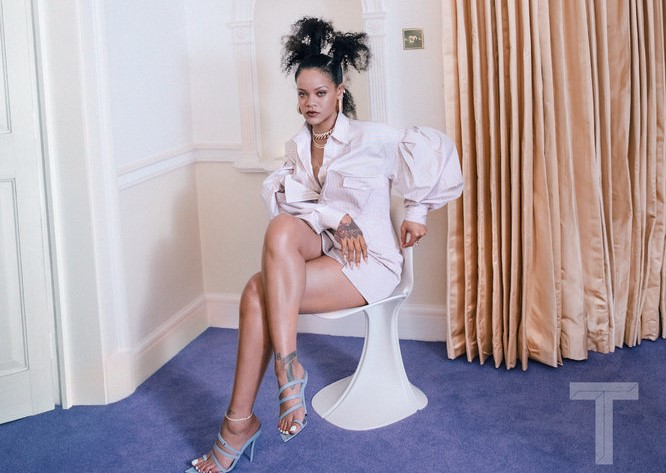 For the past year or so, there have been speculations that Rihanna is working on a Reggae/Dancehall album.
Rihanna first mentioned the possibility of releasing a reggae influenced album during a Vogue profile for the June issue last year but since then, has been absolutely mum about her 9th studio effort. Rollingstone later reported last July that RiRi and her team had accumulated more than 500 records for the yet untitled album. "[Rihanna's team] have, no lie, 500 records for this project [from] different producers and writers," one dancehall producer who asked to remain anonymous told the publication. "They're only choosing 10 records. They've been having writing camps and trying to keep them quiet for almost a year and a half now. I've been flying to Miami, flying to L.A., cutting records nonstop for this project."
Now RiRi has for the first time, admitted that her next album is indeed a Reggae one. In a new interview with NY Times' T magazine, the singer simply replied "yeah" to the question: "Is it true you are doing a reggae album?" She also dispelled the rumor that she was working with Lady Gaga although she says she's not against it. The rumor had spread after she followed the Fenty beauty businesswoman on Instagram recently.
But fans hoping for Rihanna and Drake to make another hit together would have to wait as the Bajan beauty says she doesn't plan to collaborate with him in the near future. "Not anytime soon, I don't see it happening. Not on this album, that's for sure," she said.
In rest of the interview, Rihanna opened about her upcoming fashion Fenty line with LVMH, her roots, being business savvy and more.