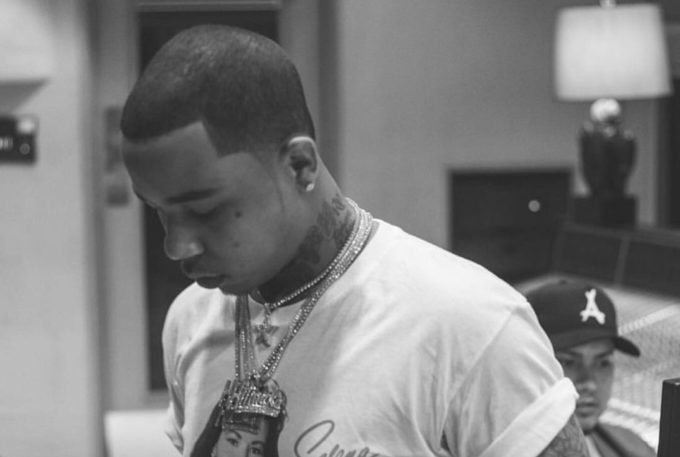 Every 5-7 years, there comes a producer who takes everything by storm. Hitmaka is definitely one of them. The only difference is, the way he's going, it doesn't look like his run will end anytime soon.
There's a reason why his Instagram is named "The Formula." He literally has the formula to create a hit record almost every time he goes out there to bat. Over the past few years, he's produced, co-produced or co-written songs like 'Bounce Back' by Big Sean, 'Dangerous' by Meek Mill, 'Look Back at It' by A Boogie Wit Da Hoodie, 'No Stylist' by French Montana, 'Something New' by Wiz Khalifa feat. Ty Dolla Sign, 'Rule The World' by 2 Chainz feat. Ariana Grande, 'Ex' by Ty Dolla Sign, 'The Light' by Ty Dolla Sign & Jeremih and so many more.
So what's his biggest secret to success? "Relationships," Hitmaka told us point blank. Lately, Hitmaka, who once had hits on the Billboard charts as Yung Berg the rapper, has also been busy being an executive — he's currently the VP of A&R at Atlantic Records which is a very vital role for any music company. In addition, he is looking to release his debut album as a producer next year with the first single 'Thot Box' featuring Meek Mill, 2 Chainz, A Boogie with Da Hoodie, YBN Nahmir and Tyga already out in rotation.
We recently spoke to him over the phone where he discussed everything from being an executive and creating countless hits effortlessly in the studio to all the work that is about to impact late this year (hint: he reveals a lot).
HHNM: Thanks for chatting with me today. I've always been an admirer of your work and growth. What's keeping you busy lately?
Hitmaka: Thank you, I appreciate that. I love your site as well. I just dropped my new single 'Thot Box' off my producer album that's releasing next year. It features Meek Mill, 2 Chainz, A Boogie with Da Hoodie, YBN Nahmir and Tyga. I'm really excited about that, just been doing press around it.
You're definitely one of the most successful producers of the last 5-7 years. What is the biggest secret to your success?
Relationships. I have a lot of great relationships with a lot of great people to where I can work with a Jeremih, I can work with a Ty Dolla Sign, I can work with a Chris Brown. I think I probably produced, co-produced or co-wrote every single that Jeremih or Ty have come out with in the last two years. And Chris Brown as well.
https://www.instagram.com/p/B2PDNBpnvoI/
That is crazy to think and that was actually my next question. Your work with Ty Dolla Sign on Beach House 3 was extra special. Are you working with him on his upcoming album as well?
Oh yeah, of course. He just dropped his record 'Hottest in The City', I'm a co-writer on that record with him. We dropped another single, the Skrillex track, 'Midnight Hour' that Ty performs. I co-produced and co-wrote that record as well. We just gearing up, he's on tour right now so when he gets off tour, we will start to roll out everything else.
Ty is an amazing artist. I remember when DJ Busy used to push him to me, I knew he would be a star one day, he's so talented. Jeremih is another one of my favorites and you have a great chemistry with him. When can we expect a new album from him? We've been waiting.
Oh yeah, absolutely. He's working on his new album right now. He's feeding us with his features until then. His records are going crazy at the moment, the DJ Khaled record ('You Stay'), Wale record ('On Chill'). I'm excited for him. Me and him always work, I'm gonna be on every project.
Tinashe dropped a couple of songs produced by you last year and there were reports that you had produced an entire album for her. Can we expect some of that to come out sometime in the future?
I actually spoke to her just recently. She left RCA Records, I believe she's managed by Roc Nation now. She reached out to me about the record. That was a project we did called Nashe. It was a lot of fun doing that because we really went into the studio for a week and banged out like 15 records that are just amazing. I'm excited for everybody to hear the records. You know we had a little bit of a start and stop with her switching labels but hopefully y'all will get to hear the music soon.
We will be waiting. She's so talented and I think should be way bigger than what she is but I believe her moment will come in due time. So what do you enjoy more? Being the Vice President of A&R at Atlantic or a hit making producer?
I think they both go kinda hand in hand because as an A&R, you have to know quality music. You have to make sure you get the best music to your artists and me personally, I am the artist and I am the producer, I'm a co-writer, I make the songs so it's just direct delivery for me. I don't have to go talk to anybody else like call this person, call that person to get people in the studio. I just go into the studio and make the hit myself.
Right on. You released your new single 'Thot Box' recently. You mentioned you'll be putting out an album next year?
Yup, next year. I'm gonna be putting out two more singles before the album drops just to get the awareness out there, get a few plaques.
You mentioned in your recent interview with Nick Cannon that there are some 15 singles with your production that are about to drop this year. Can you give us a few names of artists we can expect?
Yes, I will give you a few. As you said, Tinashe. Fabolous is about drop his new single, he's shooting a music video for it right now. I have 2 Chainz' new single that's about to come out. Tyla Yaweh featuring YG, his new single is about to come out. Man there's so many, I'm blanking out. Oh yes, new Ty Dolla Sign, new Jeremih.
So you have all plans to conquer the charts for rest of the year. You have such a great hold on what people like, especially the radio. Your stuff is always going on Urban and Rhythmic charts.
Thank you. I love the radio, I love having my records resonate there. The program directors and DJs love my work organically without having to call them like 'hey play my song.' I actually just got an email where it says we have 7 out of the top 50 on Urban charts right now. I want to have more.
Oh yes, I saw several of them. That YFN Lucci and Trey Songz record ('All Night Long') is going well too.
For sure. Coincidence that he actually FaceTimed me just now while me and you are talking on the phone. I'm super happy that I was able to give him a hit record. And it's from two people that fans might not have expected a hit record together at this point of time. Oh, the Trey Songz album, that's another project that's about to come out. That one, I probably did like half the album. First single, second single, they about to come too. We about to start rolling out that stuff. But I love that kind moment. YFN Lucci and Trey Songz delivering a smash song.
Certainly. Who are your top 3 producers of all time?
Okay, um.. Quincy Jones, Kanye West and Pharrell.
Note: the interview has been edited for content and clarity.