Eminem & 50 Cent – 'Champions'
This had to make our list because we actually had the opportunity to hear it. 'Champions' was intended for 50 Cent's long pending album Street King Immortal and with the album being pushed back indefinitely, the song's future is unknown at this point too.
50 had talked to MTV in 2015 about the song saying, "we wrote the song in Detroit. I [went] out there and we recorded in his studio, which is his comfort zone. Em is a lab rat–in case you didn't notice. You don't see him unless he's scheduled to be there. Other than that, he's probably writing something right now."
"[The song] sounds like one of those hit records you've heard from Eminem in the past [with] an R&B singer on the chorus," he added. "And it's one of those songs that he wrote his portion of the song before I got there." A singer is indeed on the hook of this song where both rappers show their vulnerable side. One word to describe it: amazing.
Drake & Future – '20 Hoes (Kylies)'
In March last year, Future previewed a new song with Drake on his snapchat which had some interesting lines. "Kylie Jenner is a side-piece, I got 20 motherf*cking Kylies, I got 20 damn Kylies," he rapped over the trap instrumental. Drake then comes on, "I got 20 damn Kendalls, young slim baddies and they're in Vogue, Yeah, I got 20 f*cking Gigis."
This was the only time we got to hear this track and because of the spicy lyrics, fans had been wondering what the rest of it was about. It never came out but since there is a renewed report of Drake and Future working on the sequel to What a Time to Be Alive, maybe we can still hope to hear it in full one day.
J. Cole & Kendrick Lamar – 'Temptations' (Feat. BJ The Chicago Kid)
The first time J. Cole and Kendrick Lamar ever worked together was late 2010 after they met at the XXL Freshmen shoot and a U-N-I release party. Cole gave Kendrick the beat for 'HiiiPoWeR' there but it was also where their infamous collaboration album began. One of the songs recorded was 'Temptations', a song Cole produced and did a verse on that Kendrick and BJ The Chicago Kid then jumped on. The song was played at one of Kendrick's meet and greets a few months later and the footage is a treasure to this day. "A few friends killed, a few sent to prison, our mamas tried to warn us but few tend to listen" Cole raps. The verse is incredible, much like everything else Cole recorded in 2010, but Kendrick rips it. "You should never give a n*gga like Kendrick Lamar home court advantage" Cole said about the song. "He came back with an incredible verse." Truthfully, the entire album could go on this list.
Kendrick Lamar & Kanye West – 'Don't Jump'
Sometimes, there are some crazy sounding tracks that you just can't get enough of. Kendick Lamar and Kanye West's 'Don't Jump' is one of them. "Barrel straight through the peephole / Tell your parents that we home / Propaganda that we own / Crime infested, not contested / Block conventions and street zones," raps Kendrick over a fiery instrumental that many think was produced by Madlib. A 1 minute, 13 seconds long version of the song hit the internet in March, 2018 but the full version never came out. None of the parties involved in the song spoke about the track publicly as well.
Young Thug's 30 Minute Long Song
HHNM was the first to break this one actually, in June this year. A 30 minute long song from one of the most buzzing artists during that time? Yup. The cut, apparently titled 'Thug N 30' hit the world wide web through unknown sources and it was absolutely real. It had Thugger rapping and singing in his typical style over the Supah Mario produced beat for that long with some assistance from his sister HiDoraah. The track was never released officially to the public but it would have been a great experiment to have a song of that long a duration on streaming services. Maybe another artist will take the unique idea and run with it.
J. Cole & Kendrick Lamar – 'Shock The World' (Feat. BJ The Chicago Kid)
Though 'Temptations' gets mentioned far more, Cole and K. Dot's other known collaboration 'Shock The World' is just as special, if not more. For the song that was made in 2010, both rappers embraced their role as hungry artists with incredible aspirations and made a toast to the future. "My money running late though, so boy, I won't front, when my paper finally make it you should know I'm gon' stunt so hard" Cole spits optimistically. On the hook, Lamar raps "times is hard now… I gotta get it, my n*gga". Though with their success in the past few years the concept will seem outdated to some, we think that the release of the song today could make for the perfect reflective record. It could also be marketed as a song written from the perspective of two up and coming rappers who many might feel the pair are out of touch with in their newfound fame and fortune.
Jay-Z & Kanye West – 'Living So Italian'
One of the songs from the sessions of Jay-Z and Kanye West's amazing Watch The Throne album that never came out is 'Living So Italian'. One of the producers on the track,  Karlyle had revealed that the track featured a sample from Andrea Bocelli's "Por Ti Valore." According to him, a slightly altered version of Jay-Z's verse on the unreleased cut ended up on his song 'FuckWithMeYouKnowIGotIt' off the Magna Carta.. Holy Grail album.
For years, only an alleged instrumental of the song existed but in May this year, a real but low quality snippet surfaced online via the leak site, LEAKTHIS. It was apparently recorded from a listening session.
Lloyd Banks & Gucci Mane – 'Untitled'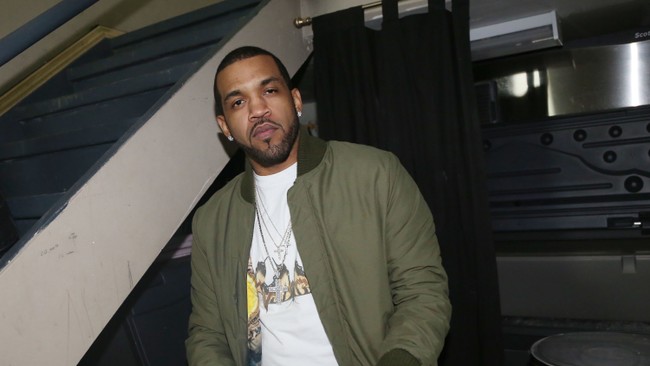 We put this on the list because well, this was an interesting collaboration on paper. In 2010, there was some in-studio footage that was released of Gucci Mane and Lloyd Banks recording a song. It was one of the first songs that the Atlanta rapper recorded after serving about seven months of a one-year sentence for probation violation. In the video, Gucci was seen recording some ad libs while Banks put a verse down which definitely impressed Gucci and his crew. The song's name is unknown and unfortunately, it never came out so we're guessing it's lost in the vaults by now.
Eminem – 'Syllables' (Feat. Dr. Dre, Jay-Z, 50 Cent, Stat Quo & Cashis)
This list can't be complete without 'Syllables'. Afterall, we had Eminem, Jay-Z, Dr. Dre and 50 Cent on the same damn track. What a lineup. Then Shady Records signees Cashis and Stat Quo were also featured on the record which leaked in its entirety in 2010. 50's wordplay on this track particularly stood out. Em's simple and catchy chorus was in reference to the intro of the song which made fun of the hottest songs at that time that didn't have much meaningful content: "It is not about lyrics anymore, It's about a hot beat and a catchy hook ."
They say the song was supposed to appear on Dr. Dre's highly delayed and possibly scrapped album, Detox.
– by Navjosh & Akaash Sharma