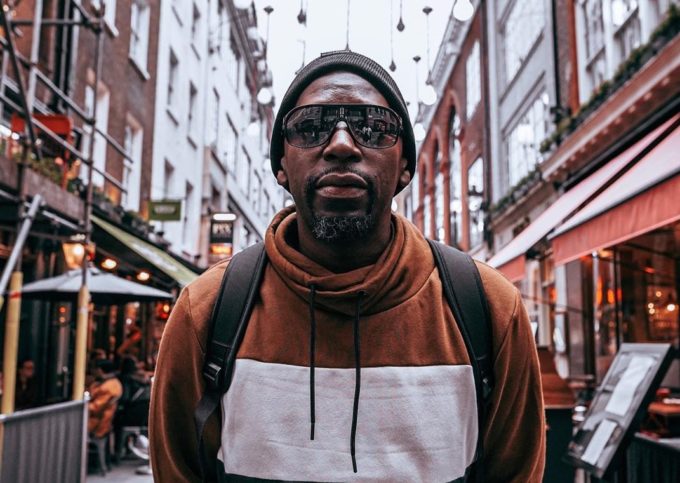 "Also just working with Kanye, I was still new so I was tryna make sure that I wasn't overstepping boundaries or doing anything wrong that I wasn't supposed to be. So to get this email back from him in all caps, it kinda took me by surprise (laughs)."
The last time I interviewed Symbolyc One, it was exactly 7 years ago when he was fresh off producing 50 Cent's 'My Life' single with Eminem and Adam Levine. Since then, the Texas native has continued to elevate his creativity, landing production credits with Eminem, Logic, The Game, Drake, Lecrae, Lil Uzi Vert, Lupe Fiasco and even Madonna.
This is of course not an exhaustive list and to Pop culture, he will always be remembered as the guy who gave Kanye one of the most important songs of his career — 'Power'. Whether it's producing on Watch The Throne, Beyonce's 4, Drake's 'Ice Melts' with Young Thug or two of the best songs ('Normal' and 'Nice Guy') off Eminem's Kamikaze album, S1 is always bringing his A-game and remaining humble about it.
The super producer is now giving fans a chance to experience his creative journey through his memoir titled Pray.Focus.Plan.Execute which comes out Jan. 15th (pre-order it here). Consisting 21 chapters, the producer-songwriter tells beautiful stories of how praying for the best, focusing on his craft, planning for future and executing his vision made him a successful musician in this cut-throat industry.
Of course, he also reveals intriguing behind-the-scenes stories of working with some of your favorite artists including Kanye West, Beyonce, Jay-Z, Madonna and more.
We chatted with the GRAMMY winning and multi Platinum producer about his book, how God kept coming through for him, experience of working with legends in music, recent work with J. Cole & Eminem, and more. Plus, he has also given HHNM an exclusive preview of the chapter "Yeezy Unexpected" which is a must read.
HHNM: Hey S1, thanks for chatting me today. You know what's crazy? You won't believe it but our last interview was exactly seven years ago today.
S1: Exactly seven years ago?
Exactly seven years ago.
Oh wow. That's crazy. Like what are the odds? (laughs)
What a coincidence (laughs). I was just reading up on our previous interview which I remember did so well. We had such a dope conversation and I realized that I spoke to you on this very day. Crazy.
That is crazy (laughs).
What a journey it's been for you. Congrats on all the success.
Oh, appreciate it, man. I appreciate that.
I've always been a big fan of yours and I must say I'm really excited about your book Pray.Focus.Plan.Execute. Tell me a little bit about it and why you decided to put it out.
Well my book was actually being written while I was experiencing all these things and the reason I say that is, the memoir is basically a collection of my experiences and a collection of things that I went through along the journey. So it got to a point to where I kinda had to step back from everything because I felt like while I was completing these things and having this success, I wasn't ever living in the moment. Like, I was always 'okay this happened, onto the next, onto the next' and I really had to kinda stop myself and take a step back and look at my journey. And in that process of doing that, that's when I was like 'okay, I have accomplished a lot and I feel like I can help others and not only share my story but be able to highlight a lot of the failures and a lot of the setbacks that I had to help people', you know? So that was mainly the inspiration for the book, just 'how can I inspire, impact and motivate and encourage people through my story?' Once I came with that purpose of wanting to do that, I just started to really just write all of these different experiences I had in the past and you know, package them into a memoir or more like a journal so I can take people on these experiences that I had.
Right. Why did you name it that? What was the concept and inspiration behind that name?
Well Pray.Focus.Plan.Execute of course is my brand but as I was writing this book and a little bit prior to writing this book, I realized that each one of those principles were prevalent in all my successes and basically, it's pretty self-explanatory. Pray is just me always acknowledging God and acknowledging that anything that I've accomplished has nothing to do with me but everything to do with what God has done and the control that God has over my life. Focus, pretty much that's basically just being able to, in every situation I have to get to a point where I can block out the noise and the distraction. So that's what focusing is, being able to block out anything that doesn't matter to where you're trying to get to. And then we have planning. Planning was a big part of me getting to certain places because it was in the planning to where I drew my own map, you know? And being able to write my goals down, my to-dos, my path, my vision, my dreams. Once I wrote them down, it gave me a direction, it gave me something to push towards. So planning was key and then one of the most important things was to execute. And this is basically all the plans, all the praying, all the focus, how can I put that into action and actually make things happen? So Pray.Focus.Plan.Execute, it just was something, like I said, not only was I saying it all the time but I was also practising it as well.
Some of the chapters that you shared with me are amazing. Thank you. I loved reading through them to see how things transpired and how a supernatural power kept coming through for you every time you needed it. Very, very intriguing. How did you feel about all of that? God coming through for you every time you needed.
Oh, man. It was very surreal just being able to live it and like I say, in the process of me actually doing these things, I realized it at some point but it wasn't until when I started to really reflect back on these moments and these things that God has done for me that it really made me say 'woah'. It was in those moments to where I realized there was a reoccurring factor and a reoccurring message that was laying in all of these situations that I was being put in. And the main thing that I got out of it is I only can control what I have control over and those uncontrollable things like when things actually happen, that's all in God's hands.
Absolutely. You've done some great work in your career but 'Power' with Kanye will continue to be a highlight, I'm sure. I love that part in your book. I want to know your first reaction when Ye emailed you "stop putting that damn tag on the beats man; it throws me off when I'm writing" (laughs). I can almost picture Kanye saying that like 'How, Sway?' (laughs)
Yeah (laughs). Oh man, it was one of those moments… so first off, it was an exciting period in my life and in my career so there was a lot of excitement in this moment but at the same time, I actually remember walking on eggshells a lot during this period because I was fresh, I was new to the commercial world. Also just working with Kanye, I was still new so I was tryna make sure that I wasn't overstepping boundaries or doing anything wrong that I wasn't supposed to be. So to get this email back from him in all caps, it kinda took me by surprise (laughs). It really put a whole another perspective on things for me like, man (laughs), just thinking back to that moment was crazy. Like I say, it just kinda put things back in perspective of like, nothing's gonna be perfect and there's always gonna be mishaps and you can't please everybody and that's what I learned from that situation. I just have to do me. But the greatest thing that I like about that story is the message that came a little bit after that and it was completely opposite of what the energy from that first message was, like it was a complete 180 from that.
Right, I was about to get into that. Did you also learn how to like, always double check the folder that you're sending through to people (laughs)?
Yes, yes (laughs). That was another thing that it made me do. It made me realize that I had to really kind of go back and make sure that I was doing my quality control on my end and making sure things didn't slip through the cracks again (laughs).
And what did him sending that $20,000 mean to you and your family at that time when you were in a financial crunch?
Oh, it meant everything. I think that moment was so powerful for me and my family because we're the type of people that, when we're going through things, we don't tell people. I don't know if it's a pride thing but we always make sure that our problems stay our problems so we don't bother people with it. So people would never know that we were in the situation that we were in because we wouldn't display that. So that right there, that moment really helped me to realize how good God is because with us not even displaying or telling that to anybody, he was still able to work through Kanye sending that without Kanye even knowing our situation. So that was a powerful moment for me because it was like 'wow, we didn't tell anybody, nobody could sense what we were going through, but God knew it and he worked through Kanye to bless us in that situation'.
That's amazing. Speaking of Kanye, have you sent any new material to him? Because I feel like even with his Gospel stuff, you could easily fit into that and supply some heat.
Yeah I totally agree with that. I haven't really spoken with Kanye in the last, I would say two years. The last time I talked to him… I can't even remember. But it's been like two years. However I did talk to Don C about a month ago and he's Kanye's former manager, he still works with him. He said he's gonna re-link us so in due time we may be getting some more work in but as of now, no, I haven't sent him anything recently.
Please share a little bit of your experience of working with Beyonce and what readers can expect from this chapter in your book named "Bey Stings."
Yeah, so Bey Stings is a chapter in my memoir and this chapter really takes the reader through an experience that I had working with Beyonce. I first met Beyonce while working on the Watch The Throne album out in London with Jay and Ye. She was always present so when we went to Sydney, Australia to work on the Watch The Throne album, she was there and that's when we creatively connected on things. I remember being in Australia and her telling me 'I would love for you to come out to New York to help me with my album at the top of the year'. And me getting a call on January 2nd was like, incredible because most people at the time, you know, being in the industry you get a lot of false promises and people will tell you things but never follow through with it. But for her to tell me that and January 2nd I get that call, I just was blown away. So with that chapter, in a nut shell, it explains the situation of me going out to New York to work with Beyonce and the moment of first getting to New York in the studio with her and playing her a beat, her stopping me and saying 'hey, I don't need anymore beats for my album, I already have 75 songs for my album already'. And I remember in that moment being so defeated before we even got to work because it was like 'okay, she already has 75 songs, there's no way I'm gonna make this album'. But through the process and as the week went along, just things started to happen in some form and by the end of that week, I left with about 5 songs with her. A few months later, me not only making her album but getting her second single as well, what a blessing it was. So Bey Stings takes you through that experience of everything I was going though within that week working with her out of New York.
Incredible. Definitely looking forward to that. Let's get back to what we can expect from you this year. When I read your credit on the 'Ice Melts' song, I was actually kind of surprised. I was not really expecting your name to pop up like that. Can we expect more work with Drake in the future?
Oh, man. I hope so (laughs). Like, who wouldn't wanna work with Drake? I work with a lot of people close to Drake, for instance like Boi-1da and WondaGurl and some people that work really close with him so you never know.
Let's hope. What are some of the other collaborations that we can look forward to this year and beyond? Give us something.
I've been working with J. Cole quite a bit on his project. Lecrae, I got a good four songs on Lecrae's new album, which is really good, by the way. I don't have a lot of information on it but I've been working with Eminem quite a bit.
Yeah, he's supposed to be working on a new album.
Yeah. They're always real quiet and real secretive but I just know he's been cutting a lot of records so we'll see what happens with that.
Definitely looking forward to that. That reminds me – I didn't even have this question prepared, it just struck me – didn't Lupe once announce an album with you?
Yeah, you're correct. So this was a project me and Lupe had started a while back and our group name was "Black Vietnam," basically me on the production and him. But along the way, it just never really came to fruition. We were having talks about it, we were texting ideas back and forth, cut a couple of songs but I guess he kinda had his thing going on and then I started getting busy working on other things so we never really just got a chance to get together and actually finish it. But you never know in the future, like, that's my guy, man.
Yeah we love Lupe.
Yeah. Super talented guy so you just never know. You just never know how things could go. A conversation could actually start up with us and we could get back to it. I think at this point it's just a matter of the timing of it. Everything is timing.
You've worked with a lot of great artists and superstars. Who's one artist that you're still looking forward to working in the studio with?
I would say… man, there's so many. I would say Andre 3000. Super fan of 3 Stacks, man. He's always been on my list to work with. I was in communication with him long ago and sending him joints but the communication got lost in translation and I kinda lost contact with him. But yeah, he's just a super talented, creative artist that I've always wanted to work with. So you know, maybe we can make that happen as well (laughs).
Yeah, let's pray for that and throw it out in the universe. A lot of things work for you like that so maybe this will as well.
(Laughs) exactly, thank you. Oh, Rihanna would be another one. I'm a big Rihanna fan.
Rihanna and 3 Stacks, a very solid list.
Yeah, she's dope.
Thanks a lot for chatting with me. Just like last time, today was great too. It's crazy that we spoke again seven years later on the same day. 
Exactly seven years! (laughs).
And you're still here, I'm still here, so that's definitely a blessing.
Yeah, that is a blessing. That's the greatest. You're so right.
Preview of Chapter 14: Yeezy Unexpected (exclusive):
"I continued to work consistently and send Ye beats on a regular each day. One thing he hated was my beat tag "S1 got that Heat!" I would insert my tag every 30 seconds throughout my beat track to prevent artists from stealing them. Ye approached me early on when we first started working together and asked to keep the beat tag off the joints that I sent to him, so it wouldn't get in the way of his writing. I agreed and was completely cool with leaving it off. However, in the batch that I sent him one day, I realized that I had forgotten to untag a couple of the tracks.
He soon replied back: Stop putting that d*mn tag on the beats man; it throws me off when I'm writing! You should stop period cause it's not helping sell the beats. With all due respect, please remove it! While reading his email, I was in-between anger and hoping I didn't piss him off too bad. My wife, on the other hand, was scorching mad. "This was so rude! I don't know what side of the bed he woke up on today! Just rude!" She said. We were more frustrated than anything. Financially and emotionally stressed, the last thing I needed was Ye yelling at me about a stupid beat tag. Minutes later, another email from Ye came through and it read: I just want you to win bro. I picked five beats from all these joints I collected from you over the past year. I want to cut you a check out of my personal account for 20K towards what we got coming this new year because I know Christmas is coming up too. I got major love for ya my nig.
Before we could even finish reading the email, tears fell uncontrollably down our faces. That miracle we were hoping for had just unexpectedly come through."