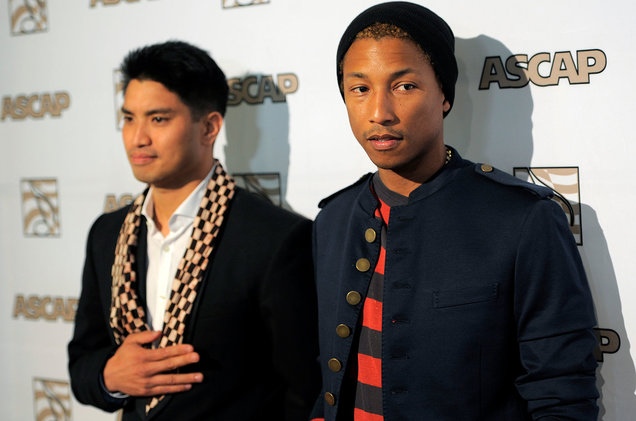 It's official: The Neptunes are officially back.
Over the last several years, both Pharrell and Chad Hugo have ventured out to work on their own independent projects and only got together once in a while for special assignments. But in a new interview, Chad reveals that the duo is now working together full time again on new music where they are producing for different artists apart from a soundtrack to a video game.
Two artists that Chad named immediately stood out: Jay-Z and 2019's breakthrough artist, Lil Nas X. "I'm focussing on The Neptunes stuff, getting back on The Neptunes grind. We're doing a couple of things. There's a videogame soundtrack that's in the works right now that I can't speak about, I'm not supposed to, but uh, it's in the works right now," Chad said when asked by Clash about Neptunes' upcoming work.
"We just did some work with Miley Cyrus, Jay-Z, Blink 182, Lil Uzi Vert, Brandy, Ray-J, Snoh Alegra, G-Eazy," he continued. Later in the chat, he mentioned being in the studio with The Weeknd recently. "We were just in the studio with The Weeknd, and that sounds really futuristic." Chad also spoke on working in the past with Justin Timberlake, The Neptunes' special sound, how they started and more.
It's clear that the duo plans to takeover the soundscape once again this decade but how successful will they be? In the chat, Pharrell also chipped in with a few words of praise for his longtime partner. "He's himself. He's a Savant. Being around him only makes everyone else better. He radiates genius. He's been that way since I met him in beginning band at 12 years old."
In May, 2017, Chad had abruptly made the announcement on Twitter that he was quitting the music business, only to delete it later. "I resign from the music business. Thanks again, people, for your support throughout all these years. Good luck/God bless!" The tweet was deleted and a representative for him had denied his retirement.