UPDATE: The PARTYPACK project is here much earlier than expected. The EP features 7 songs including cuts like 'Candy' featuring Nipsey Hussle and 'Cuffed Up' with Quavo that are coming to streaming services for the first time. It is now available in select international markets and will be out worldwide at midnight ET.
Peep the tracklist and artwork below.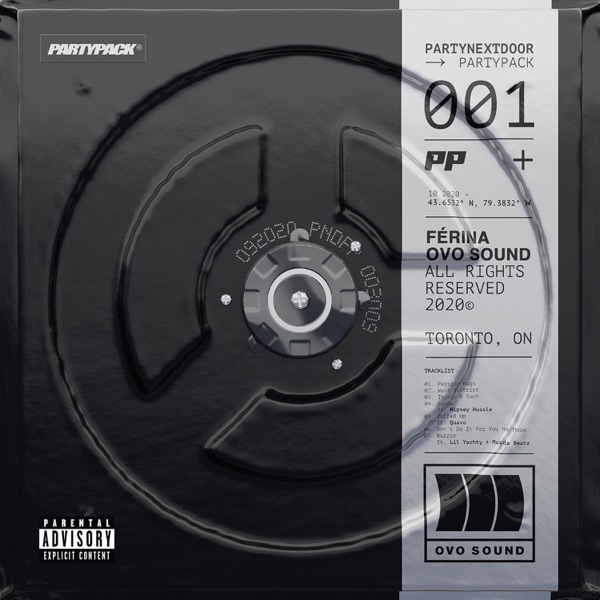 Previous story: PARTYNEXTDOOR has teased the release of a new project called PARTYPACK.
In a video trailer released on Wednesday, the singer-songwriter talks about how he makes a lot of beats but does not record music until he is "feeling" something. "I'm not going through something I won't record. I can make beats all day and wait for me to lyrically feel that. There's a lot of stuff that goes in my life, that's the only way I want to get it out. Via music," he says.
— PARTYNEXTDOOR (@partynextdoor) October 15, 2020
Right at the end of the clip which you can watch above, a release named PARTYPACK is teased. At this point, fans are not sure about the nature of the project. But in all probability, it looks like Party will be packaging a lot of loosie cuts on the project that have not been released officially across all streaming platforms, similar to Drake's Care Package.
👀

— PARTYNEXTDOOR (@partynextdoor) October 9, 2020
Ok

— PARTYNEXTDOOR (@partynextdoor) October 9, 2020
The Toronto artist had replied to a few fans on Twitter, hinting at what we can expect from the project. The release date for it is not known yet. Hopefully, Party will also package some unreleased cuts like we heard on Drake's Dark Lane Demo Tapes album. PARTYNEXTDOOR dropped his PartyMobile album earlier in March.