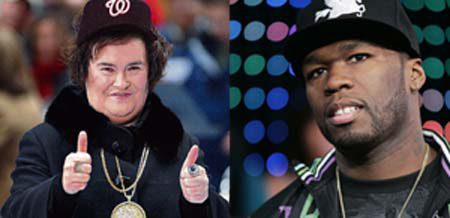 Now Curtis wants to do a collaboration with Susan Boyle, the lady from Britain's Got Talent who broke Eminem's record for the highest selling album debut of 2009, with nearly 700k copies sold in the first week.
"Susan Boyle is hot right now. I got to get her on a track, for real. We'd make a hit.

Everyone is talking about her, the lady from Britain's Got Talent.

She's got an amazing voice, and together we'd get everyone dancing. I'm always looking to do something new and she's cool, so I'll ask somebody to let her know.

I'd love to take her clubbing, show her around my world. She'd have a great time."
Now, there's nothing wrong in this, is it?
Source: The Mirror