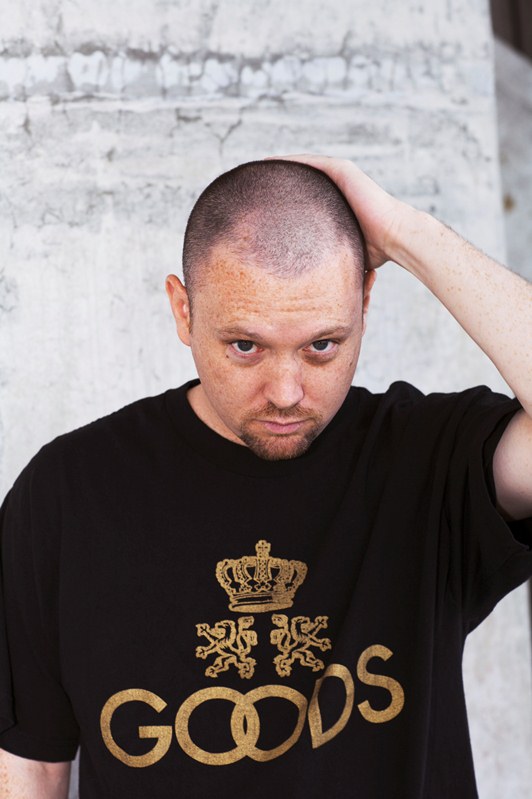 HHNM: You have created your own lane as far as sound is concerned. You really seem to focus a lot on drums which makes your beats stand out. Where does the inspiration come from?
Jake One: You know, it's just the era of Rap I come from. I grew up listening to DJ Premier, Pete Rock and Dr. Dre. Hip-Hop used to be pretty much about drums purely. I'm just always trying to find out new ways to program and use them in different ways. I try to put a different twist to them. Like that 'Body On It' beat. It wasn't what 50 normally raps to but I wanted to make something that fits. Even that other song I did for Wiz, 'The Grinder'. I'm really happy with the response to that one. That's the challenge I love. How do I make something that's me but is different at the same time and doesn't sound like 1990.
HHNM: Yeah, most of the times I do recognize your beat straight away. They have a certain edge to them.
Jake One: Yeah, it's like your DNA in music. It's kind of a good thing. Everyone wants their signature sound and I don't know if I exactly have that but everything of mine has a certain feel which is important.
HHNM: Drake previewed a new song the other day in a video clip while he's smoking hookah. Is it true that you produced it?
Jake One: Yeah, that's the song I did for him.
HHNM: Tell us how that collaboration came out and where it will end up.
Jake One: You know I'm not even sure at this point. I've been talking to him off and on, sending him stuff. There were some records that he really liked. That was one of them he recorded. Hopefully, you will get to hear the music soon.
HHNM: Cool. That joint 'Salute' on T.I.'s last album was outstanding as well. Are you two working again on his next album 'Trouble Man'?
Jake One: Thanks man. My boy Steve at Atlantic actually hooked that up for me. He made that one happen. But I haven't sent him any beats recently. I'm not sure what direction he's going in with the new one. A couple of years ago I definitely made an effort to do more stuff for the guys in South because they're kinda running rap right now. And I think some of the stuff I do can make sense with that.
HHNM. Back in January 2010, you told me that you were trying to put out 'White Van Music II' before the end of year. What's up with that? When will our lucky day arrive?
Jake One: (Laughs) You know the main problem is that these artists do songs with me and then they don't wanna give it to me. They just keep the shit. But I got about 9 songs right now actually. During 2010-2011, I started liking some of the new artists. I wasn't really into that earlier. I've been making effort to get some of that on the album. And what happens is that these younger dudes usually know who I am and I think like 'oh this should be easy' but then I have trouble getting these guys to actually give me the records! Actually the fact that I'm in Seattle also makes it a bit hard for me to catch people. I can put out an album right now but it wouldn't be what I want because I don't wanna do the same shit I've done on the first one. It's definitely gonna be different. I really do have some bangers though. You know it's funny because I think I have a lot of singles but not really the meat of the album (laughs).
HHNM: Ha. So how much longer do you want us to wait?
Jake One: I don't wanna even say it now. I'm just giving y'all the Brother Ali album. Everybody get off my back now (laughs). I got people on Twitter making fun of me saying it's Detox status now. But nah, it's not the same. It's kinda cool that people still wanna hear it. The first one did well but this second one will definitely show a different side of me.
HHNM: Can you name some of the artists we can expect to hear on that album?
Jake One: Umm.. Mayer Hawthorne, MF Doom, Elzhi, Brother Ali, Freeway, Curren$y, Scarface. I have some surprises as well but I don't wanna talk about it right now.
Continued on page 3..